Rebuild Your Smile With Dental Crowns
Crown Therapy to Restore Broken Smiles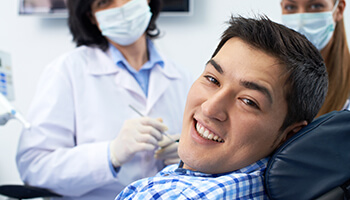 Why should you replace missing teeth? Broken, missing, or decayed teeth can affect your self-confidence and your oral health. Missing teeth can also lead to gum disease which can cause a number of health problems such as heart disease and diabetes. Missing teeth can also contribute to nutritional problems as you may avoid certain foods due to difficulty eating them. Over time, missing teeth can cause your bite to change putting stress and strain on your temporomandibular joints (TMJ) leading to chronic problems.
To prevent this from happening, the restorative dentistry staff at Danville Dental Associates can use a crown or bridge to heal your smile.
A crown covers a tooth on all sides – restoring a tooth to functionality when a cavity has become too large to be filled or repairing any breakage due to dental trauma and protecting it from further damage. Crowns allow patients to keep their natural tooth roots, instead of having them replaced with dental implants. Several types of materials can be used including metal crowns made from silver or gold and porcelain crowns that are shaded to match the patient's natural teeth.
Crowns can be used to:
Repair a fractured tooth.
Complete the final step in the dental implant process.
Provide reinforcement for a tooth that has just undergone root canal treatment.
Anchor a dental bridge.
Because of a crown's variety of uses, our doctors have extensive experience working with both metal and porcelain crowns and can help you make the best decision. We can easily determine whether or not your smile will be aided by the protection and stability that dental crowns provide. If you have any questions, our staff will gladly answer them during your examination. The procedure itself generally requires two visits. The first visit is to prepare the tooth to receive the crown and take impressions of the tooth to send to the lab. A temporary crown will be placed on the tooth to protect it while you are waiting for the permanent crown to arrive from the lab. After about three weeks, you will return to the office for your second visit. The doctor will check the crown to ensure it is a good fit and color match and then will secure it in place. You should not experience any discomfort following placement of the crown. Should you encounter any problems or have questions about the care and maintenance of your crown, call our office and we will be happy to assist you.
Fixed Bridges Offered For You
Fill in your missing teeth with a bridge from Danville Dental Associates!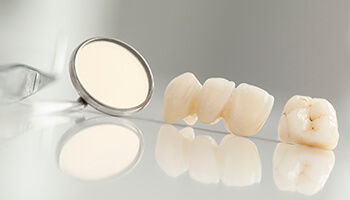 Do you have a gap formed by as many as three missing teeth in a row? Would you like to improve your overall oral health? If you answered yes to both of these questions, then you would most likely benefit from the placement of a bridge. Missing teeth can lead to complications that compromise your oral health.
Bridges are another alternative for missing teeth. They are a good solution when multiple teeth need to be replaced. A bridge is a custom-made replacement for one or more missing teeth that literally "bridges" the gap. It consists of artificial teeth attached to gum colored plastic bases. There are two kinds of bridges: fixed and removable. A fixed bridge is more stable as it is permanently anchored to the neighboring teeth by bonding or a crown. A removable bridge can be detached by the wearer for daily cleaning and at bedtime. Your doctor can help you determine which form of tooth replacement will work best for you.
You'll first arrive at Danville Dental Associates for your consultation appointment, where our staff will evaluate your existing teeth to determine if they can provide a stable foundation to support a bridge. Because a dental bridge uses two anchors surrounding the gap to hold the false tooth in place, the teeth supporting the bridge on either side must be strong. Bridges can be supported in three ways: by natural teeth, implants, or a combination of the two.
Benefits of Dental Fixed Bridges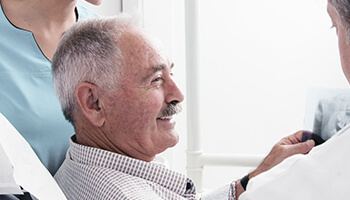 Many patients choose fixed bridges to replace one or more consecutive teeth. Bridges offer a variety of benefits including:
Completed smile without gaps
Restored ability to chew even tough foods
Improved clarity of speech
Maintenance of the full gum tissue volume and facial shape
Evenly distributed bite force that prevents additional damage to other parts of the smile
Keeps remaining dental structures from drifting out of alignment
Dental bridges are a viable option for anyone with one or more missing teeth. They may be permanently fixed or removable, and your doctor can help you decide which type is right for you.
If you want to find out more about crown and bridge therapy from Danville Dental Associates, please call us today. Our staff will be more than happy to discuss treatment options with you to improve your smile. If you are interested in discounts of 10% to 20% on all restorative procedures, please take a look at the Danville Dental Discount Program page and find out more about our affordable dental care plan.