Meet Chatham Dentist Dr. Clifton
Jeffrey A. Clifton, DDS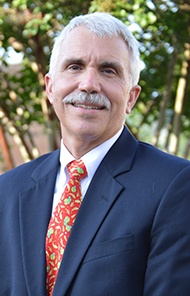 Dr. Jeff Clifton was born and raised in Danville and graduated from George Washington High School. He earned his Bachelor of Science degree in Biology from Hampden-Sydney College in 1983. Upon successful completion of studies Dr. Clifton received a Doctor of Dental Surgery degree in 1987 from Virginia Commonwealth University School of Dentistry. He joined Danville Dental Associates that summer.
Dr. Clifton is a member of the Danville Regional Dental Society, the American Dental Association and the Virginia Dental Association. He has also completed numerous hours of continuing education focusing on the treatment of TMJ, dental implant placement and restoration.
Dr. Clifton is also a volunteer for the Mini-MOM (Mission of Mercy) project in Danville, as well as Give Thanks for Smiles.
Dr. Jeffrey Clifton married his wife, Patti, in 1987. They have two grown sons, Patrick and Christian, who also graduated from Hampden-Sydney College, and three dogs. Outside the office, Dr. Clifton enjoys fishing, baseball, playing golf, jazz music, and NASCAR. He and his family are members of Mount Vernon United Methodist Church.
Dr. Clifton enjoys dentistry for a number of reasons. He likes helping patients smile again and the fact that even though dentists do the same technical procedures each day, each situation is different from the previous one because each patient presents a unique set of circumstances. He also appreciates the opportunity to continue to learn and grow because new techniques and materials are constantly being introduced in the field of dentistry.