Professional Teeth Whitening in Danville
Dazzle Others with a Newly Brightened Smile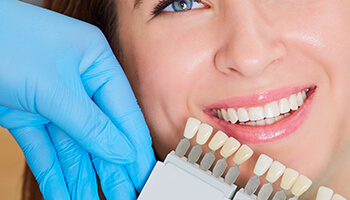 No smile design would be complete without teeth whitening. Over time, the things you eat and drink can take their toll on your teeth leaving them dull and discolored. Smoking, certain antibiotics, and plaque can yellow your teeth as well as aging, genetics, and dental trauma.
Danville Dental Associates offers two options in tooth-whitening: a single session, in-office whitening procedure that takes about an hour and uses a special light to intensify the bleaching agent or a take-home, teeth whitening kit with customized molds and professional grade bleaching gel. If you would like to see instant results, in-office teeth whitening with a cosmetic dentist could be the choice for you. Take-home teeth whitening is often chosen by patients who would like a more gradual process that gives them a chance to adjust to their new look. We'll fit you for a customized teeth tray and provide you with a whitening solution. You'll be able to adjust the daily teeth whitening periods to whenever is convenient for you. Our at-home systems usually only require you to dedicate 15 to 30 minutes a day to teeth whitening.
Talk to your Danville Dental Associates dentist today to find out more about our teeth whitening systems. We provide teeth whitening systems to patients from Danville, Chatham, South Boston, Martinsville, and other surrounding Virginia communities, as well as Reidsville, Yanceyville, Eden, and communities in North Carolina just south of Danville. Our dentists want to improve your oral health as well as your smile's appearance, so please check out our dental services for more information. If you're worried about the cost of treatment, please know that we work with CareCredit, a third-party financing company. We file claims for all insurance carriers and accept major credit cards, such as MasterCard, Visa, American Express, and Discover. We also promote affordable dental care with the Danville Dental Discount Program. We can't wait to give you a reason to smile!