Meet Dr. James R. Evans
James R. Evans, DDS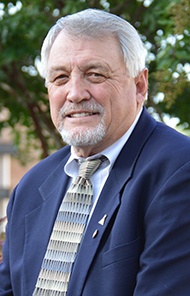 Dr. Jim Evans comes from Logan, West Virginia, and graduated from Logan Senior High School. He earned his Bachelor of Science degree in Biology from Fairmont State College in 1972 and then went on to West Virginia University School of Dentistry to achieve his Doctor of Dental Surgery degree in 1978. He relocated to Danville in 1978 to begin private practice. Dr. Evans merged his practice with Danville Dental Associates in late 2007.
Dr. Evans served in the U.S. Air Force from 1965 to 1969 and was stationed in Florida, South Carolina, Texas, and the Philippines. He even played basketball for his base team! Dr. Evans is a member of the Danville Regional and Piedmont Dental Societies, as well as the Virginia and American Dental Associations. Dr. Evans is a Fellow of the Virginia Dental Association and the Pierre Fauchard Academy, which is an international honorary dental organization that recognizes and celebrates the achievements of outstanding dentists. He was also chosen to be one of Danville's "Best Dentists" in the 2011 Readers' Choice Awards.
Dr. Evans is also an active member of the community. Some of his involvement includes being a past member of the Free Clinic of Danville board of directors, President of the Danville YMCA, past Commissioner and coach of Little League Baseball, a past Boy Scout Leader for Troop 376, and a past coach of YBA basketball, fall baseball, soccer, and the Danville All-Stars. Dr. Evans is also a past president of the Woodberry Hills Elementary School PTA, Westmoreland Middle School PTA, and the George Washington High School Basketball Booster Club. He, too, participated in the Mini-MOM project in Danville and Danville Dental Associates' Give Thanks for Smiles.
He is a member of Trinity United Methodist Church, Danville Golf Club, the German Club, the Young Men's Club, West Virginia University Alumni Association, and the WVU School of Dentistry Alumni Association.
Dr. Evans married his wife, Stephanie, in 1967. They have three children and six grandchildren. In his spare time, Dr. Evans supports West Virginia University athletics, loves to cook, plays golf, hangs out at the beach, listens and dances to beach music, reads, and studies military history.