Orthodontist—Danville, VA
Meet Dr. David C. Jones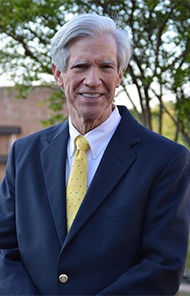 Dr. David Jones was born and raised in Martinsville, Virginia. He has practiced for more than 40 years and provides braces, Invisalign®, and Invisalign Teen to children and adults seeking to improve their smiles and boost their self-confidence. Thanks to his decades of experience, he's able to completely personalize his treatments for each and every patient to ensure they enjoy a smooth, comfortable experience as well as beautiful results. He can't wait to welcome you into Danville Dental Associates, and you can start getting to know him by reading on below.
Why did you decide to become an orthodontist?
Dr. Jones became fascinated with health professions starting at an early age, due in no small part to the fact that his father was a physician. He got to see firsthand how his dad spoiled his patients with awesome care, and he wanted to be able to help people in the same way. By becoming an orthodontist, he's been able to provide the same type of one-on-one, hands-on care just like his dad, and he absolutely loves his job just as much as when he started.
Where did you study dentistry?
Dr. Jones is a graduate of Hampden-Sydney College and continued his education at Virginia Commonwealth University's Medical College of Virginia School of Dentistry, followed by his 2-year specialty residency training at the MCV Department of Orthodontics. Since then, he has attended multiple continuing education meetings and conferences in order to help him stay up to date on the latest technology and research in dentistry. He also maintains memberships in the:
American Dental Association
Virginia Dental Association
American Academy of Orthodontists
American College of Dentists (Fellowship status)
American Association of Orthodontists
What do you like to do outside of the dental office?
When Dr. Jones isn't helping patients or golfing, you'll find him spending time on his other passion: giving back to the community by working to preserve our environment. Over the years, he has received many awards for his conservation efforts. A few of his favorites are:
Trout Unlimited— Conservationist of the Year
Southern Association of Orthodontists— Citizen of the Year
Virginia Museum of Natural History— Jefferson Award for Conservation
Henry County Board of Supervisors— Citizen of the Year
City of Martinsville— Citizen of the Year
Hampden-Sydney College— Community Service Award
Blue Ridge Land Conservancy— Landsaver Award