Dental Implants in Danville
Permanently Replace Your Missing Teeth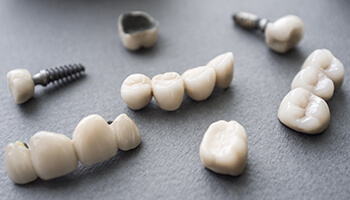 When properly designed and placed, dental implant supported tooth replacements have a 98% rate of success, and innovations in dental care make it possible for almost any patient to undergo dental implant supported tooth replacement. Implants provide a stable, permanent fixture that takes the place of a missing tooth. An implant consists of a small, titanium post anchored into the sockets left by missing teeth. The dental implant procedure consists of placing these titanium posts into the bone socket of the missing tooth. As the jawbone heals, it grows around the implanted metal post, anchoring it securely in the jaw. The healing process can take from six to twelve weeks. During this time, you will have a temporary crown in place to protect and aid in healing, as well as provide function for chewing and speaking. Once treatment is complete, the implants act like natural tooth roots and keep your jawbone intact and strong. These posts can be used to secure individual teeth, bridgework, partials, or full dentures. With implants, the patient does not have to worry about slippage, and no existing teeth are altered during placement.
The most versatile tooth replacement solution available, dental implants can be used to restore smiles following the loss of a single tooth or a full arch of teeth. Some of the many benefits of dental implant supported tooth replacement over other options include:
Because both the roots and crowns of teeth are replaced, the resultant replacement prosthetic is more natural looking and feeling
The improved stability of dental implant supported tooth replacements makes it easier to talk, smile, and chew with complete confidence
Compared to partials that are attached to surrounding teeth or full dentures that rub against the gum line, dental implant supported prosthetics are much more comfortable
When cared for with regular oral hygiene and checkup visits with the dentist, implant supported restorations can last for decades
Because dental implants require that you have a strong jawbone, our doctors will have to examine you and ask about your health history and medications you take before moving forward with the service.
Danville Dental Associates sees dental patients from Danville, Chatham, Martinsville, Ridgeway, South Boston, and the surrounding areas, as well as Yanceyville, Reidsville, Eden, and communities in North Carolina just south of Danville. Please contact our office today to schedule an appointment. To make our services more obtainable to our patients, Danville Dental Associates has established the Danville Dental Discount Program.