Traditional Orthodontics in Danville
Get the Straight Smile You Deserve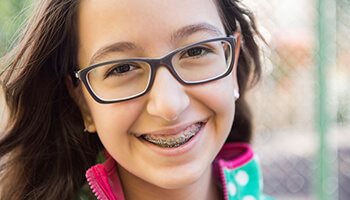 Providing orthodontic treatment makes Danville Dental Associates a unique general dental practice. We offer traditional braces for all ages and Invisalign clear aligners for adults and teenagers.
Originally, all orthodontic treatment was considered cosmetic. However, after years of experience and research, dentists know that properly aligned teeth look great, but they also lead to improved oral health and the longevity of patients' smiles. Some of the oral health advantages of properly aligned teeth include:
Easier to clean, which reduces risk for tooth decay
Evenly spaced, properly aligned teeth make flossing and removing plaque buildup around the gums easier, which reduces risk for gum disease that can lead to a number of oral and overall health issues
Uneven or improperly aligned teeth may wear unevenly this can lead to a greater likelihood of dental wear, chips, and cracks
Uneven pressure may also strain or damage the TMJ that connect the jaw to the skull bone leading to TMJ dysfunction
Diet can be limited when chewing is made difficult by crooked or misaligned teeth
Speech impediment is much more common for patients with misaligned teeth and even speech therapy may be less effective in treating these impediments than orthodontic correction
Get Answers to Frequently Asked Orthodontic Questions
There are a number of causes of orthodontic issues. Most commonly, patients are simply born with a genetic predisposition for dental misalignment. It's very rare for anyone to have teeth that are completely naturally. Some environmental factors may also impact bite alignment. For instance, patients who were not weaned from the bottle early enough, those who have chewing or biting habits, and patients who grind and clench their teeth may be more likely to experience orthodontic concerns.
Before we begin treatment, we'll use patient oral and overall health history, visual examination, and digital x-rays to make an accurate diagnosis of smile alignment concerns. We'll use digital impressions and CT scans to plan for teeth to shift into the most comfortable, natural alignment. Typically, orthodontic treatment can take between twelve and eighteen months. However, in rare cases, treatment may be completed in as little as six months or as long as thirty months.
We see patients for the following orthodontic corrections: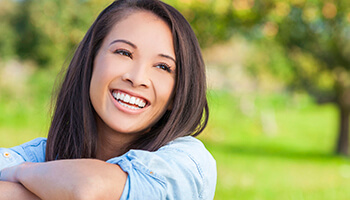 Crowding of teeth
Spacing of teeth
Rotation
Overbite
Underbite
Openbite
Traditional orthodontics are still an ideal solution for a variety of bite alignment issues including severely crooked tooth position, bites that are extremely misaligned, and jaws that do not fit together properly. Our highly trained dentists are able to offer personalized orthodontic treatment planning by utilizing the latest dental techniques and technologies including IPSoft orthodontic software, digital impressions, and our CT/Conebeam Scanner. By combining these state-of-the-art technologies, we're able to provide orthodontic care specific to each patient's unique needs.
Danville Dental Associates provides orthodontic care to dental patients from Danville, Chatham, South Boston, Martinsville, and other Virginia towns, as well as Yanceyville, Reidsville, Eden, and other North Carolina communities. To help with the cost of orthodontic care, Danville Dental Associates has special offers, cash payment discounts, and the Danville Dental Discount Program for new and returning patients. We are also a participating provider with the Virginia and North Carolina Medicaid programs for children in need of orthodontic treatment. Contact us today to schedule your evaluation appointment!