Meet Dr. Albert L. Payne
Albert L. Payne, DDS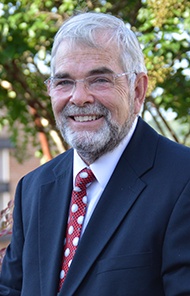 Dr. Albert Payne is originally from Danville and graduated from George Washington High School. He received a Bachelor of Science degree in Biology in 1972 from the College of William and Mary. Following graduation from Virginia Commonwealth University's Medical College of Virginia School of Dentistry in 1976 with a Doctor of Dental Surgery degree, Dr. Payne opened a private practice in Danville where he has been serving the community ever since.
Dr. Payne is a member of the American Dental Association and the Virginia Dental Association, as well as the Piedmont Dental Society and Danville Regional Dental Society. He was named a Fellow of the Piedmont Dental Society, the American College of Dentists, and the International College of Dentists. Dr. Payne has been selected as "Best Dentist" numerous times since 1998 in the Danville Register and Bee's Readers' Choice Awards, the Chatham Star-Tribune's Readers' Choice Awards, and Showcase Magazine's RAVE Awards.
Dr. Payne served as a member of the Board of Directors of Delta Dental Plan of Virginia from 1988 through 2016 and previously served on the board for the Boys and Girls Club of Danville. He now serves on the board of directors for VA Bank & Trust Company. As an active participant in the community, Dr. Payne is involved with many local organizations in varying capacities. He is President of both the Tunstall High School Academic Booster Club and St. John's United Methodist Church Fishermen's Club.
Dr. Payne has been a volunteer for the Mission of Mercy projects in Southwest Virginia and in Danville, which provide free dental care for patients who are unable to afford treatment. He has also participated in the Give Thanks for Smiles program sponsored by Danville Dental Associates in November of each year. He has coached the Pittsylvania County Youth League's basketball and softball teams for girls, as well as serving on the Pittsylvania County School Board from 1988 to 2000.
Dr. Payne is a faithful member of Trinity United Methodist Church and the United Methodist Men's organization where he was instrumental in establishing a project of planting and harvesting potatoes for God's Storehouse in Danville. He is a member of the Alumni Associations of VCU School of Dentistry and the College of William and Mary.
Dr. Payne married his wife, Sandra, in 1973. They have three children, all of whom are now grown, and six grandchildren. When he's outside of the office, Dr. Payne enjoys playing golf. His other hobbies include reading, gardening, attending concerts, watching movies, and being a loving Grandpa to the youngest members of his family.