Emergency Dentistry in Danville & Chatham
Danville Dental Associates offers same-day emergency care.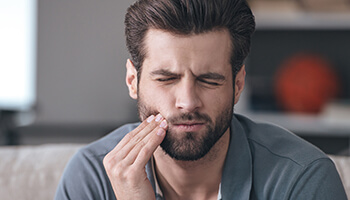 In your hour of need, Danville Dental Associates is here for you! Emergency dental situations, such as extreme pain or infection, swelling, bleeding, or injuries to the teeth or gums, often require quick attention – usually within 24 to 48 hours.
Toothaches are one of the most common causes for emergency dental calls. Pain in the teeth may be indicative of a number of oral health concerns including tooth decay, dental damage like chips or cracks, abscess, or a need for root canal therapy.
A visual exam and digital x-ray will be used to help our dentists determine the exact cause your toothache, so we can create a personalized treatment plan to relieve toothache pain and restore full form and function to your smile. Even if you think your toothache pain has subsided or gone away entirely, we recommend you contact our office to schedule an appointment. Apart from rare instances, toothache pain does not go away on its own, and the longer you wait to receive treatment, the more severe the concern may be.
Emergency dentistry cases can include:
Bleeding from an extraction site that does not stop when pressure is applied
Abscess or severe swelling or infection of the jaw, face or gums around the tooth, especially if you are having difficulty breathing or swallowing
Toothache
An aching jaw or pain in the jaw when opening and closing the mouth
Problems with anterior (front) teeth – chipped or broken, filling out, crown off or broken
Irritation of the tongue, gums or mouth due to a broken or chipped tooth or lost filling
Severe traumatic injury, such as a knocked-out tooth, partially dislodged tooth or a soft tissue injury to the gums, lips, tongue or cheek
Danville Dental Associates offers same-day emergency care during our regular business hours. Simply call one of our Danville offices to make an appointment. The staff will schedule a time with your regular dentist or our doctor on call, if your preferred provider is not available.
Some situations are sometimes considered urgent care, when the patient is not experiencing pain or discomfort and their dental health is not immediately compromised. They should be taken care of as soon as possible, but do not necessarily need immediate attention.
Urgent Care cases include: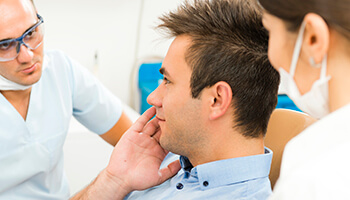 Lost or cracked fillings that are not causing pain or irritation of the tongue, gums or mouth.
A chipped or broken tooth that is not causing pain or irritation and is not located in the front of the mouth where it can be seen.
A crown that has come off or broken. Please bring the crown with you to your appointment and do not try to re-attach it with super glue or another type of household adhesive.
A broken denture or bridge. Bring the broken pieces with you to your appointment. Do not attempt to glue them back together yourself.
A food particle or other object which has become stuck between your teeth or lodged beneath the gum line, where dental floss and toothbrushes don't reach. Do not use a pin or other sharp object to poke at the stuck object.
Loose orthodontic brackets and bands.
Cold or canker sores.
In those situations, we will endeavor to find an appointment for you to take care of your problem that same day or as soon as possible. If you require after hours care, call the Danville Dental Associates location where you normally receive your care. You will be directed to a doctor who will assist you with your needs.
New patients are also welcome to take advantage of our emergency and urgent care services!