Emergency Dentist Proudly Serving Danville
We Offer Same-Day Emergency Dental Care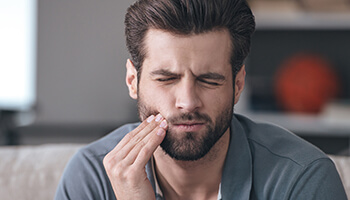 In your hour of need, Danville Dental Associates is here for you! Emergency dental situations, such as extreme pain or infection, swelling, bleeding, or injuries to the teeth or gums, often require quick attention – usually within 24 to 48 hours.
Toothaches are one of the most common causes for emergency dental calls. Pain in the teeth may be indicative of a number of oral health concerns including tooth decay, dental damage like chips or cracks, abscess, or a need for root canal therapy.
A visual exam and digital x-ray will be used to help our dentists determine the exact cause your toothache, so we can create a personalized treatment plan to relieve toothache pain and restore full form and function to your smile. Even if you think your toothache pain has subsided or gone away entirely, we recommend you contact our office to schedule an appointment with an emergency dentist. Apart from rare instances, toothache pain does not go away on its own, and the longer you wait to receive treatment, the more severe the concern may be.
Emergency Form