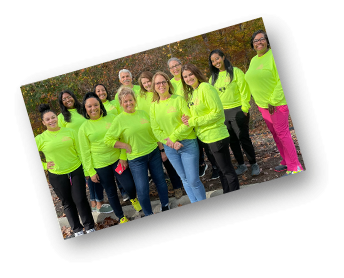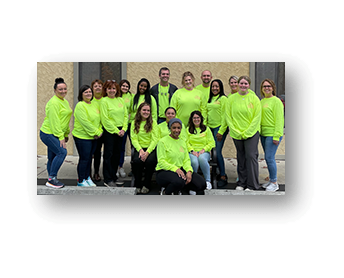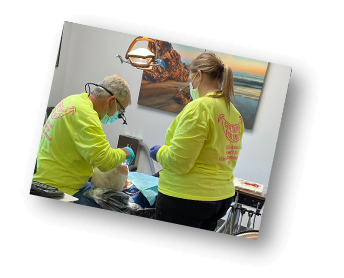 DANVILLE DENTAL ASSOCIATES 12TH ANNUAL GIVE THANKS FOR SMILES EVENT
The Danville Dental Associates' 12th Annual "Give Thanks for Smiles" benefit fundraiser took place on November 5th and November 12th, 2022. Dental services, such as fillings, extractions, and cleanings were provided for a fee of $50 for each procedure. Danville Dental Associates donates all materials and supplies needed for the procedures. All of the proceeds received were donated to God's Storehouse.
Danville Dental staff volunteers included 10 dentists, 7 hygienists, 16 dental assistants, and 12 office staff members. Overall, 117 patients were treated enabling a donation of $7,450 to God's Storehouse. In the twelve years that Danville Dental Associates has sponsored "Give Thanks for Smiles", $64,903.00 has been given to benefit local charities. Dental services valued at over $165,000 have been performed over the last twelve years to help our community in coordination with this event.
The staff of Danville Dental Associates would like to express their appreciation to the patients who participated. We are also grateful to the staff members who generously volunteered their time to the event:
Doctors: Dr. Albert Payne, Dr. Jeffrey Clifton, Dr. Chris Payne, Dr. Austin Moon, Dr. Thomas White, Dr. Andrew Hessler, Dr. Nikki Hartline, Dr. Nicole DeShon, Dr. Afnan Yousef, and Dr. Giuliana Silva
Hygienists: Jenny Toufas, Denise Edwards, Kristin Clarke, Kim Moore, Megan McCoy, Angela Bond, Catherine Quick,
Dental Assistants: Shaniqua Penick, Cashe Crosley, Kim Sadler, Tia Price, Ann Key, Kelsey Steele, Emily Mason, Keisha Ferguson, Vernisha Jacobs, Charity Burns, Josh White, Amber Short, Kayla Roach, Marty Norton, Taylor Davis
Office Staff: Tracy Turner, Shana Turner, Vickie Harrelson, Lisa Wells, Charlotte Brooks, Kathy Craddock, Katrina Ragsdale, Beth Cooke, Cari Craddock, Misti Searcy, Keia Graves
Other Volunteers: Haley Goins, Maddie Goins, Sam Payne, Olivia Payne