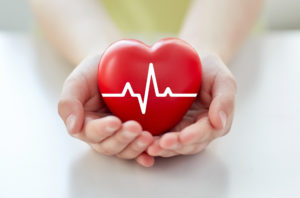 Given that February is National Heart Month, it's a great time to discuss one of the secrets that modern medicine has uncovered – that everything in the human body is connected. With that stated, what happens in one area can be super impactful in another, even though the two may seem to have nothing in common. Such is the case with your oral health, as it serves as a window into the rest of your structure. One very vital organ that can be affected by your dental wellness is your heart. And as your dentist of Danville will explain, there are ways to ensure that they both remain healthy and fully functional.
The Connection Between Periodontal Disease and Heart Problems
New research has found that there is a link between periodontal (gum) disease and heart problems, but how? Periodontal disease is a condition that is caused by the buildup of bacteria and plaque on the teeth and gums that has caused an infection in the latter. Untreated, it only gets worse and eventually spreads.
The gums act as a gateway to the rest of the body because it is where the blood in the mouth flows through. If there is an infection, then it is carried throughout the body, including the heart. During this process the bacteria combine with fatty plaques in the bloodstream and cause blockages.
How to Prevent This from Happening
There are some very simple ways to prevent gum disease and the residual effects that can come along with it:
Practice excellent oral hygiene – One way to prevent gum disease is to practice excellent oral hygiene. It includes brushing and flossing your teeth at least twice a day and using mouthwash to flush and moisten your mouth. There are several other techniques and tools that are available for you, but these are the simple bedrock practices that will keep your mouth clean.
Eat healthier – Eating healthier has a multitude of benefits. For starters, a diet that contains more fruits and vegetables will have direct and positive effects on the health of your heart, lowering the amount of harmful cholesterol in your arteries and allowing more oxygen to flow to the organ. Furthermore, this habit will help to create the type of environment you desire inside your mouth, where bacteria can't flourish, and your higher pH saliva works to prevent decay instead of encouraging it.
Visit your dentist semi-annually – Your partner in your oral wellness is your dentist so take advantage of this ally by maintaining semi-annual visits for thorough checkups and cleanings. This allows your local professional to help you maintain the healthy mouth, teeth and gums that you desire because the harder to clean material like tartar and built-up plaque will be removed, and your dentist will also be able to identify any encroaching issues.
So by involving yourself in very simple processes – practicing excellent oral health and visiting your dentist every six months – you are taking a stand for your overall health. Thus, you become a living, breathing example of total wellness and your heart says thank you!
About the Author
Dr. Thomas J. White received his Bachelor of Science degree in Biology from Virginia Commonwealth University and then went on to earn his Doctor of Dental Surgery degree from the Virginia Commonwealth School of Dentistry. He practices at Danville Dental Associates and can be reached for more information through his website.