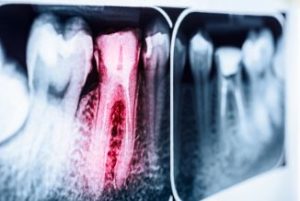 If you took a poll to find out what the most dreaded phrase in dentistry is, you would probably find "You need a root canal" at the top of the list! But the good news is that modern dental practices have made root canals easier than ever. But even though they're much more painless than you would expect, you might be wondering why you would need a root canal from a dentist in Danville in the first place. There are many reasons that patients might need this procedure, but the end result is always the same: Root canals save teeth that would otherwise need to be extracted. Keep reading to find out more!
Why Are Root Canals Necessary?
To answer this question, it's helpful to start by explaining the anatomy of a tooth. Enamel, or the outer layer of your tooth, is the hardest substance in your body – even harder than your bones! The layer underneath is called dentin, which is a bit softer.
The center of the tooth is called the pulp (aka nerve canal). It's much softer than enamel and dentin and contains the nerve and blood supply of the tooth.
This nerve canal can become infected if it's damaged badly enough. Here are several possible causes:
A large cavity that's reached the pulp of the tooth.
An accident or other blunt-force trauma.
Repeated dental work on the same tooth.
A large crack or fracture in the tooth.
In many cases, these conditions will lead to a painful toothache or abscess. In other cases, the nerve of the tooth will "quietly die," which isn't painful but still leads to a serious infection.
How Can You Determine if You Need a Root Canal?
The best way to know if you need a root canal or not is to have a consultation with a dentist in Danville. They'll be able to assess whether the nerve of your tooth is infected or not.
If so, root canal therapy will treat the infection before it leads to bigger problems. Getting a root canal allows you to save a tooth that you would otherwise lose. The enamel and dentin will remain intact, while the infected inner pulp is removed.
The idea of getting a root canal isn't very appealing, but by getting to the "root of the problem," you can keep a damaged tooth and improve your oral health for many years to come!
About the Author
Dr. Christopher Payne is a general and restorative dentist who received a Master's from the Academy of General Dentistry in 2013, a prestigious award that's only given to dentists who have completed 2,000 hours of continuing education after dental school. Among the many specialty topics he studied is root canal therapy, which allows him to provide outstanding service to his patients who need this procedure. If you have any questions, he can be reached via his website or at 434-822-0500.