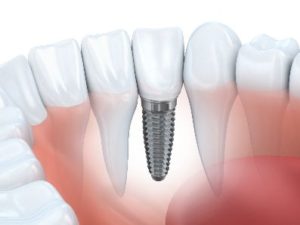 Healthcare is a lot different than it used to be… and dentistry is no exception. Even just 35 years ago, white fillings weren't widely used, the only way to straighten teeth was using traditional braces, and bridges or dentures were the only options for replacing missing teeth. Thankfully, times have changed! Patients with missing teeth now have a modern way to replace them that looks and feels more natural than any other option: dental implants in Danville. But you may have heard that implants won't work for everyone, so what is the process like and who is the ideal candidate? Keep reading to find out!
What's Involved In Getting an Implant?
Here are the basic steps to the implant process:
First, a small surgery is performed to place the implant (a titanium post) in the jaw, which usually takes a couple of hours. Patients are often surprised at how much easier this is than they thought. In fact, many people say it's no more difficult than getting a filling!
Then the implant is given 3-6 months to integrate, or fuse, with the surrounding jawbone.
Finally, the restoration is completed with either a crown or denture that looks and feels completely natural.
Although getting an implant takes longer than other replacement options, the final result also lasts much longer. Implants can last decades or even a lifetime with basic care and maintenance!
Who Is the Ideal Candidate?
The only way to know for sure that you're a good candidate for dental implants is to see a dentist in Danville. They'll start by evaluating your medical and dental history to make sure that the procedure would be successful for you.
Here are some of the factors they'll be looking at:
Non-smokers – The success rate for non-smokers is around 98%, while that drops to 85% for smokers. This is because smoking disrupts the healing process that's necessary for the implant to fuse with the surrounding jawbone.
Adequate bone levels – If you've been missing your teeth for a long time, there's a chance that your jaws have "shrunk," leaving them too thin or weak to accommodate an implant. However, other options like mini-implants can still work so don't be discouraged if you lost your teeth a long time ago!
Good hygiene habits – Implants can't get cavities like natural teeth, but it's still important to keep the gum tissue around them clean and healthy.
Healthy tissues – The gum tissue and bone around an implant are what supports it, so it's crucial to keep these tissues healthy so the implant will remain solid and sturdy for many years.
Stable medical history – If you have uncontrolled diabetes, hemophilia or severe immune problems, there may be concerns about your ability to heal properly.
Remember, a consultation is the first step if you'd like to know whether an implant might be right for you. Now, with these guidelines, you'll be able to ask the right questions!
About the Author
Dr. Justin Armbruster is a general, cosmetic and restorative dentist who pursued advanced training in implant placement during his residency at the University of North Carolina. He loves being able to transform his patient's lives for the better with a replacement option that looks and feels like their own teeth. If you have any questions, he can be reached via his website or at (434) 822-0500.