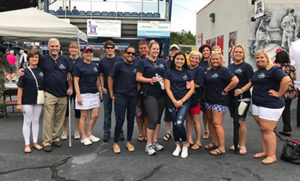 Danville Dental Associates hosted approximately 500 patients, including their families and friends, at the 2nd Annual Night Out with the Braves. Vouchers were given at each of their 5 locations for game tickets. The original game date, August 1st, was rescheduled to August 8th, because of stormy weather. Danville Dental Associates showed up on the 1st anyway to honor tickets for patrons who weren't bothered by rain or delays.
A dental group that plays together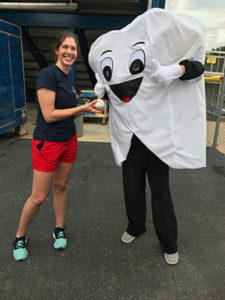 The game opened with Charity White's beautiful voice singing the National Anthem. The first pitch was tossed out by Dr. Nikki Hartline and Dr. Andrew Hessler dressed up as Molar Man. Dr. Hartline and Dr. Hessler joined the Danville Dental Associates family in June.
Part of this year's fun included a chance to "dunk a dentist" to raise money for God's Storehouse, a local food pantry. Dr. Joey White, a.k.a. Dr. Extractin8tor, volunteered to sit in the dunking booth. A total of $45 was raised to support God's Storehouse!
There were several prizes raffled during the game including electric toothbrushes, massage gift certificates and Target gift cards. Danville Dental Associates game day t-shirt's were tossed to the fans, too.
It's all about community
The next community event is the annual Give Thanks for Smiles in November. Services such as fillings and extractions are done at a reduced rate. Doctors and staff volunteer their time and the money raised goes to local charities. Each office will also be a collection point for the Salvation Army Toy Drive.