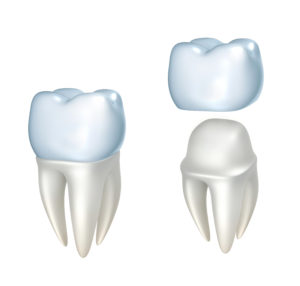 In the past, enjoying the benefits of dental crown therapy usually required at least two trips to a dentist in Danville, with all the expense and inconvenience entailed. That's no longer the case thanks to modern E4 D laser scanning technology. Now you can be fitted for your crowns and receive them during the same one-day appointment.
How Same-Day Crown Therapy Works
The contours and dimensions of each person's teeth are unique to the individual. That's why there's no such thing as a one-size-fits-all approach to dentistry. The dentist must perform a series of precise measurements to ensure proper fit of medical appliances such as crowns.
Traditionally, this has been a time-consuming process performed using manual tools. All that changed with the introduction of digital imaging technology just a few years ago. Nowadays software can create an exact map of the patient's dental profile in a fraction of the time once required.
This advancement, when coupled with in-office milling machines, eliminates the need to transfer a patient's information to a distant lab and wait days, sometimes weeks to receive the finished product. The person walks into the clinic and walks out the same day with their crown emplaced. It really is as simple as that.
A Step-By-Step Look at Same-Day Crowns
Treatment begins with the dentist using a scanning device to create a model of the patient's mouth and teeth. This data is then sent to the office's milling machine, which is similar in concept to 3-D printing technology. Once the crown is ready, the dentist will apply pigments to ensure a match with the recipient's surrounding teeth and skin tissue. Lastly, the crown will be heat-treated for a few minutes to ensure maximum strength and minimum weight. The entire process sometimes takes as little as an hour, perhaps two.
The dentist will check the finished crown for proper fit and comfort. Occasionally, the tooth may need gentle shaping, a process conducted using pain blocking medications and perhaps light anesthesia, depending on the patient's wishes. Finally, the crown is cemented in place and the person is able to go about his or her daily routine.
Same-day dental crowns provide a true long-term solution to many oral health problems. In return, they require only basic care, such as regular brushing and flossing and periodic trips to the dentist for cleanings and checkups. Of course, the patient should stay away from tobacco products, drink alcohol only in moderation, and limit consumption of sugars and simple starches.
Biting down on hard or sharp objects can damage any crown. However, the same is true of the patient's natural teeth. Eating a healthy diet, avoiding stress, and engaging in regular exercise are important foundations for enjoying lifelong dental health.
If a same-day dental crown sounds like what you're looking for, then we recommend making an appointment with your dentist in Danville today to find out more. Whichever option you ultimately choose, we wish you plenty of happy smiles in the months and years to come.
About the Author
Dr. Albert Payne is a graduate of the University of Virginia and a Danville native. He's a proud member of the American Dental Association and the Virginia Dental Association. You can reach his office online or by calling (434) 822-0500.