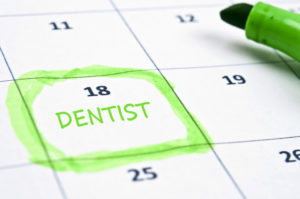 The end of the year is approaching quickly. In a matter of a few short months, we'll all be unwrapping our 2019 calendars, making our new year's resolutions, and collecting paperwork to file our annual taxes. But before the door closes on 2018, there are a few things you still may need to do — like visit your dentist in Danville. Scheduling an appointment now can help you get the most out of your dental insurance benefits.
A Time Limit for Your Benefits
Most dental insurance plans operate on a calendar-year basis. At the beginning of the year, every policyholder gets a certain amount of money that they're allowed to use for certain dental services. Usually, this amount is in the ballpark of $1,000 to $1,500. If the annual cost of your oral healthcare doesn't take up the entire amount, the unused funds disappear. They don't roll over to the following year. Many people with dental insurance annually end up losing out on hundreds of dollars' worth of benefits.
Of course, we're not saying that you should get unnecessary dental work solely for the sake of squeezing every dime out of your insurance policy. However, you should attend two checkups each year, listen to your dentist's recommendations for any further work you may need, and use your insurance to keep your smile as healthy as possible.
How to Take Full Advantage of Your Dental Insurance
Here are a few things you can do this year to make sure you're using your dental benefits to your greatest advantage:
Schedule a checkup as soon as possible. If you haven't already had two checkups this year, now is the perfect time to get your teeth looked at. Since most insurance plans cover preventive care at 100 percent, you may be able to have this appointment at no out of pocket cost. If your exam reveals that you need a filling or other restorative work, there might still be time complete your treatment before the end of the year.
Develop a strategy for major dental work. Some dental procedures will in and of themselves exceed your annual maximum. However, such treatments usually take place over the course of multiple appointments. You may be able to schedule them across two calendar years so you can use two annual maximums instead of just one.
Don't forget your flexible spending account (FSA). If your employer has set up an FSA for you, you can use those funds to pay for medical or dental work. The money may expire at the end of the year, so now is the ideal time to tap into this account.
Ask for advice. The office staff at your dentist's office knows the ins and outs of insurance. They'll be happy to help you understand and maximize your policy.
It'll soon be time to say goodbye to 2018 — but hopefully you won't say goodbye to your dental insurance as well. Visit your dentist soon to take full advantage of this year's benefits.
About Danville Dental Associates
We are a team of experienced dentists who work together to provide excellent oral healthcare to our community. Many of our doctors are in-network with major insurance companies. To learn more about our payment policies or to schedule a checkup, contact us via our website or call one of our offices.