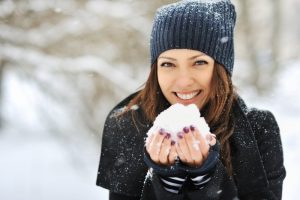 Good oral hygiene is important to your oral and overall health, but staying in the routine of keeping your teeth clean during the holiday season is tricky. All of the sweets and treats available combined with a packed schedule and travel can really throw your oral health habits off. But there are some steps you can take to keep your mouth health in good condition during this season of sugar. Keep reading to learn some healthy holiday habits to get into from your dentist in Danville.
Tip #1: Pick Seasonal Treats That Are Healthy
Sugary sweets and treats cause decay, but those are impossible to avoid altogether this time of year. However, there are some seasonal snacks you can indulge in that won't do damage to your teeth. Try eating cheeses, nuts, peppermint, and gingerbread instead of caramel popcorn, sugar cookies, and eggnog.
Be extra careful about eating hard or sticky candies. These stay in contact with your teeth for longer periods of time, putting your smile at risk of cavities and decay. If you need your candy fix, reach for some chocolate instead. Chocolate washes away and dissolves much faster than hard or sticky candy, which minimizes the contact that sugar has with your teeth.
Tip #2: Prepare for Travel
Traveling for friends and family can really throw off your oral health routine. To keep your teeth and gums healthy while on-the-go, pack a travel-sized toothbrush, toothpaste, and floss. That way, you can keep up your oral health no matter where you are.
Tip #3: Make Brushing Count
Many people can't keep up with twice-a-day brushing during this busy time of year, so if you fall into this category, it's important to make brushing count when you do. Be sure to brush 2 minutes each session and put your brush at a 45-degree angle. You should clean the front, back, and top of each tooth to keep them healthy.
For extra protection, you can add mouthwash to your oral health routine. Give your mouth a rinse after brushing and flossing to wash away bacteria that wasn't reached before.
Tip #4: Drink Water Consistently
Most tap water contains fluoride, which is a natural cavity-fighting mineral that protects your teeth. Water also naturally washes away plaque and bacteria, so it's good to drink water consistently throughout the day to wash sugars off your teeth.
Use these tips to get through the season of sugar with a healthy mouth. That way, you can celebrate the holidays with the occasional indulgence while still taking care of your oral health.
About the Practice
At Danville Dental Associates, we have 12 highly-trained dentists serving patients in our 6 locations. They take pride in providing personalized and quality care to their patients. They believe in patient education, which is why they want you to know how to keep up with your oral health during the holidays. For any questions, they can be contacted through their website or by phone at the location that works best for you.