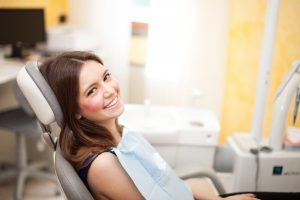 Straightening teeth has become all the rage in dentistry over the past decade. More and more people are opting out of traditional braces and instead choosing clear aligner systems to fix crooked teeth and misaligned bites. But what if you didn't have to go through a third-party manufacturer just to fix your crooked or rotated teeth? By working with a dentist in Danville, you can get your own unique series of clear aligners and only work with the local dentist in the process.
If you were thinking about ordering aligners in the mail, please check out the difference custom-made aligners can make.
#1: Complimentary X-Rays
When you choose to shift teeth with our in-house aligners, you'll receive an X-ray free of charge. The X-ray is intended to confirm exactly what issues plague your smile. Whether it's crowding, misalignment, malocclusions or rotated teeth, an X-ray will allow us to see exactly where the problem lies.
#2: Complimentary Digital Impressions
Most dental offices require patients to bite into a gray, putty-like impression material in order to create a mold. This mold is typically used to create the aligners, but most people find the putty used to create them to be unpleasant. Instead of biting into an odd-tasting impression mold, our office uses a digital impression device to capture a 3D image of your teeth and jaw in real-time.
#3: More Detailed Than Mail-In Aligner Systems
If you've ever tried to work with mail-in aligner companies, you probably know they require photos of your mouth taken by your cell phone. This is hardly an effective or reliable method for capturing an accurate model of your current teeth. By using the digital impression system in our office, you're guaranteed to get aligners that resemble the future stages of your realignment.
#4: Keep Teeth Clean In Between Pairs
It's no secret that clear aligners can harbor plaque and bacteria. By visiting our office regularly, (which you'll need to do anyway while pursuing treatment) you can get your teeth polished and your aligners cleaned to reduce your risk of staining, tooth decay and gum disease.
#5: Attachment Buttons for Faster Treatment
Our office provides attachment buttons that work in tandem with your clear aligners. These buttons are meant to accelerate your overall treatment time and get your smile looking straight sooner! Furthermore, these buttons are not typically provided with mail-in-varieties.
#6: Comparable/Lower Costs Compared to Other Treatments
One of the largest benefits of choosing in-house aligners over third-party manufacturers is a comparable or even lower cost. This is because we do not have to pay for fees associated with using an offsite dental lab to create aligners. Instead, your trays are created entirely in-house with the help of a 3D printer. By reducing our costs on manufacturing, we can pass those savings down to you.
Ready for an even more convenient solution for straightening teeth? Schedule a free consultation with our office today!
About Danville Dental
The dentists at Danville Dental do everything they can to improve the patient's overall experience. That means investing in training and equipment that works to make dental treatments, including cosmetic orthodontics, easier and more affordable for everyone. To learn more about their expertise or practice, you can contact the dentists via their website.