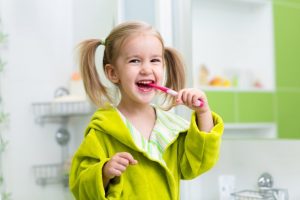 As a parent, one of your concerns is your child's dental health; thus, you're always looking for ways to encourage him or her to practice consistent and proper oral hygiene. Since February is National Children's Dental Health Month, this is a perfect time to ramp-up your efforts, and your dentist in Danville has 5 tips to aid in your quest!
How to Pour a Solid Foundation
Childhood is considered to be the time of life where certain habits are established. Whether their outcomes will be positive or negative, all depends on exposure. Therefore, you're reminded in the month of February, to emphasize excellent oral health and to expose your little one to ways to make it happen!
Tip #1 – Place a Spotlight on Plaque
One of the great nemeses of oral health is plaque. The sticky substance clings to teeth and can then seep beneath the gum line to cause major problems.
A less frightening way to introduce your child to the seriousness of bacteria and plaque development is to use special tablets that are chewed. They will reveal all the places where plaque has gathered on the teeth.
This brief demonstration will encourage your child to brush with more purpose.
Tip #2 – Evaluate Your Child's Brushing Technique
In a loving way, you can assess how well your child performs oral hygiene. If there are some issues noticed, you can use it as an opportunity to demonstrate the proper ways to brush and floss.
Tip #3 – Go Toothbrush Shopping
After you get your child up-to-speed on how to brush better, you can then reward him or her by going shopping for a new toothbrush that features a favorite character. This will make the next session of brushing and flossing highly anticipated.
Tip #4 – Use Coloring as a Reminder
If your child is like most kids, then coloring is near the top of the list of fun things to do. Therefore, you can download some free, online activities that are offered by the American Dental Association. After your child colors them, you can hang them throughout the bathroom as a reminder of the importance of performing oral hygiene.
Tip #5 – Schedule a Dentist Visit
Along with encouraging your child to brush and floss on a regular basis, it's equally important for him or her to learn the importance of maintaining six-month dental visits. In addition to providing cleanings and examinations, these appointments also provide a means of education for the whole family while also ensuring healthy and functional teeth for years to come.
To team-up with your ally in the quest for excellent oral health, contact your dentist to schedule a visit today!
About the Author
Dr. Thomas White earned his dental degree from Virginia Commonwealth University School of Dentistry. Since then, he has remained committed to helping children get-off to the best oral health start possible. Dr. White provides preventive care at Danville Dental Associates, and he can be reached for more information through his website.