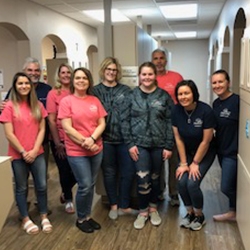 On April 27th, Danville Dental Associates reached out to the community to support our area students with a project called "Smile for Schools". This event assists schools by offering at-home bleaching kits, regularly valued at $399, for a $100 donation to be given to the patient's designated school of choice.  These included public or private schools; primary, middle or high schools; and special needs schools in Danville City and Pittsylvania County areas.
This year, 33 patients participated providing a combined donation of $3,300 to the schools.
Volunteers make this possible
The staff of Danville Dental Associates would like to express their appreciation to the patients who participated and offer our apologies to those patients we were unable to schedule due to lack of appointment space. We are also grateful to the staff members who generously volunteered their time to the event: (Dentists) Dr. Albert L. Payne and Dr. Jeffrey A. Clifton; (Office Staff) Misti Searcy, Cari Craddock; (Dental Assistants) Marty Norton, Kimberly Conner, and Melissa McKenna (Other Volunteers) Kara Searcy and Haley Goins.