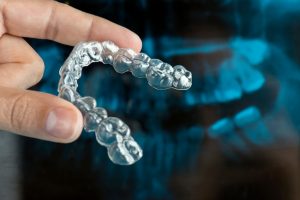 If you're an adult with misaligned teeth, you probably don't want to get braces. They're clunky and they can make you look like a dorky teenager again. That's why there's Invisalign – the set of clear plastic aligners designed to subtly straighten your teeth without the awkwardness and dietary restrictions of braces. Let's take a closer look at 10 things you should know before getting Invisalign in Danville.
1. You Have to Commit to Wearing Them
Unless you wear your aligners for at least 20-22 hours a day, they're not going to work as well as they should. Your treatment could end up taking a lot longer than originally planned. Keep them in at all times except when you're eating or brushing your teeth.
2. They Might Give You a Slight Lisp
Maybe no one will be able to see your aligners, but they might be able to hear them at first. Your mouth has to take some time to get used to the way the aligners feel and how to speak while wearing them. Once you get adjusted, no one will be able to tell you're wearing them at all.
3. Invisalign Is Not for Everyone
Invisalign can fix a lot of orthodontic issues, like crooked or overcrowded teeth. However, if you have severe problems, you might see quicker results with traditional braces. Your best bet is to ask your dentist which method of treatment is best for you.
4. Invest in Some Travel Toothbrushes
During your treatment, you'll need to brush your teeth after every meal and before you put your aligners back in. This means a travel-sized toothbrush for on-the-go brushing is a must. Since you'll be using them a lot, it's a good idea to buy in bulk.
5. Cut Back on Your Morning Coffee
While you have your aligners in, you won't be able to drink anything besides water, or else your aligners could get stained. If you're going to drink coffee, either drink it with your breakfast or remove your aligners beforehand and brush your teeth after you're finished.
6. You Might Lose Some Weight
Mindless eating throughout the day will soon be a thing of the past. After every meal or snack, you'll have to brush your teeth. You'll ask yourself if it's worth brushing your teeth to have those chips in the middle of the afternoon. Because you'll cut back on snacking, your clothes will probably start fitting a little better.
7. Invisalign Is Painless
Getting your braces tightened can result in irritation or pain. While getting a new set of aligners may cause a little discomfort, it's nothing compared with the metal wires of braces. Your aligners also can't poke the soft tissues in your mouth like braces can.
8. Don't Clean Your Aligners with Toothpaste
Many people think you clean your trays with toothpaste, but that can actually cause yellow stains to appear. Toothpaste also contains abrasive ingredients that, when allowed to build up, can cause odor. Stick to an Invisalign cleaning kit.
9. Treatment Might Take Longer Than You Think
Invisalign takes less time than braces, with the average patient only needing to wear their trays for one year. However, if you're not committed to wearing your aligners, your treatment could take even longer.
10. Invisalign is 100 Percent Worth It
Invisalign will give you a beautifully straight smile you can be proud of. Treatment might not be the most comfortable or convenient thing in the world, but it will be worth it to see your straight pearly whites smiling back at you in the mirror.
If you're interested in straightening your teeth without braces, contact your dentist today.
About the Practice
At Danville Dental Associates, our goal is to make every patient as comfortable as possible. Our 8 dentists are spread around 5 different locations in the Danville and Chatham, VA areas. We are Invisalign-certified to help you achieve that straight smile you've always wanted. To learn more click here or call (434)-799-8825.