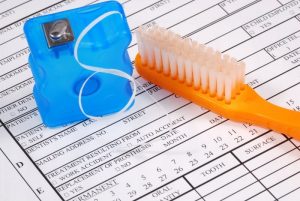 It's almost October, and 2019 is starting to wind down. For many people, the end of the year means enjoying the changing weather and preparing for the holiday season. But did you know that your dental insurance benefits are about to reset as well? Although these benefits will like start over again in 2020, have you gotten your money's worth out of your coverage so far this year? If you haven't already, now is the time to make the most of your benefits. In this blog post from your dentist in Danville, you'll find 5 reasons to maximize your dental insurance before the calendar year ends.
Preventive care is covered.
In most cases, dental insurance completely covers preventive dental services, including two checkups and cleanings per calendar year, fluoride treatment, and more. That means that you can get X-rays taken, a comprehensive oral exam, and thorough professional cleaning at no additional cost to you. If you haven't had both of your checkups yet this year, you can schedule this routine dental appointment likely without worrying about having to pay anything in person.
Oral problems only get worse with time.
With some medical conditions, if you give your body time, it can heal on its own without medical intervention. The opposite is true for oral issues, which only cause more damage and pain the longer you postpone treatment. As a result, what started out as a little problem can develop into a huge, physically and financially painful issue down the road. Many insurance plans have 70 to 80 percent coverage for minor restorative care but only 50 percent for major restorative care. The longer you wait to address your problem, the more you could pay out-of-pocket.
You've already paid, so use that money.
Every month, you pay for your dental insurance. Whether it's deducted from your paycheck by your employer or you use money out of your own pocket, you pay a monthly premium for coverage. If you don't visit the dentist, especially for preventive care, it's like you've given your hard-earned money away for free.
You could have a yearly maximum available.
Every calendar year, your insurance policy has a maximum amount that it can pay for covered procedures or services. This maximum can vary plan by plan, but it usually totals around $1,000 to $1,500. If you've visited the dentist only once this year, you likely still have a lot of coverage left. It would be a pity to leave money on the table, particularly for necessary procedures. That yearly maximum can help you better afford that service.
Fees could increase next year.
As the cost of living continues to go up year by year, you premiums could also rise, or your coverage could change. If you need treatment, wouldn't you rather pay a lower amount now than wait a little bit and pay more for the exact same procedure later? Take advantage of your plan before the new year.
You still have some time before the end of 2019. It's not too late to take advantage of your dental insurance benefits. Schedule your appointment with your dentist now so that you can take care of your teeth and your wallet simultaneously.
About the Practice
With twelve dentists and six locations, Danville Dental Associates provides local families with expert dental care that you won't find elsewhere in the area. They are even able to help with dental emergencies after hours! Many of our dentist are in-network with most dental insurance plans, allowing patients to save significant money on their oral care. If you have a dental insurance question, feel free to contact Danville Dental Associates by clicking here.