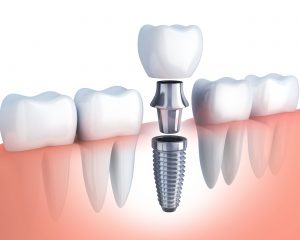 One of your front teeth got knocked out a while back in an unfortunate accident. Now you have a big old gap in your grin. Not only do you think it's unattractive, but it creates some embarrassing moments when you try to speak normally, and you end up whistling. To make matters worse, you can't exactly chow down on your favorite chewy foods anymore. You've heard about dental implants in Danville as a way to replace your missing pearly whites, but you have some questions, like "how long do they last?" Read more to find out.
What Are Dental Implants?
To understand how long dental implants last, it helps to first know what exactly a dental implant is. There are three main components:
 Implant: A (usually) titanium post that is surgically placed under the gumline and into the jawbone to replace the root of a tooth that has been lost.
·         Abutment: A metal connecting piece that attaches to the implant and holds the crown in place.
·         Crown: A ceramic tooth-shaped cap that goes over the abutment and helps your tooth look more natural.
Generally, the abutment and crown are subject to more daily wear and tear than the implant post itself, meaning they won't last quite as long.
How Long Do Dental Implants Last?
Your dental implant can last for decades, possibly even the rest of your life, provided you brush, floss, and visit your dentist regularly for checkups and cleanings. The attached crown, however, does not have nearly the same lifespan. Crowns typically last 10 to 15 years, even with proper care. So, you'll eventually need to get the crown replaced, even though the implant could last for several decades.
Location of the implant in the mouth is another factor in how long it will last. Implants replacing teeth in the back of the mouth (molars or premolars) undergo more strain from chewing, which might cause them to fail more quickly.
What Factors Can Cause a Dental Implant to Fail?
While dental implants have a success rate of more than 95%, they can still fail occasionally. If you have certain medial conditions, like diabetes or cancer, you are significantly more likely to experience dental implant failure.
Implants can also fail if you don't maintain them properly. That means brushing twice a day, and flossing under the implant crown every day as well. Failing to do so can result in periodontal (gum) disease that may cause the body to reject the implant. Proper implant care also includes visiting your dentist every six months for a checkup and cleaning.
If you're missing one or more teeth and are sick of it, now is the perfect time to consider getting dental implants. It may be just the solution you've been needing.
About the Practice
At Danville Dental Associates, we have a skilled team of eleven dentists across six locations who perform a wide variety of restorative and cosmetic procedures, including the placement and restoration of dental implants. They treat patients of all ages and all stages of tooth loss, from just one to full mouth reconstruction. To learn more about whether dental implants in Danville would be right for you, click here to contact them.