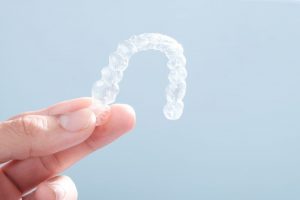 Do you have a loved one that's been feeling self-conscious about their smile? Or are you bothered by your own pearly whites every time you look in the mirror? In either case, Invisalign in Danville just might be the perfect present – whether it's for yourself or someone you care about. Here are just 6 reasons why Invisalign is a gift that keeps on giving.
1. Invisalign Can Correct All Kinds of Orthodontic Problems
While some orthodontic issues require braces, Invisalign can help address many common conditions. In addition to straightening your smile, it can also treat crowded teeth, small gaps, overbite, underbite, and crossbite. The end result is a dazzling, healthier grin that you can look forward to showing off for years to come.
2. Invisalign Doesn't Stick Out
Worried that your orthodontic treatment will draw unwanted attention? Unlike unsightly metal braces, Invisalign aligners are made out of a clear plastic that's barely noticeable while it's on the teeth. To most people, it will look like you're not wearing any sort of dental appliance at all.
3. Invisalign Works Faster Than Traditional Braces
Traditional metal braces are usually effective, but one of the many downsides is that you could end up wearing them for two or three years – and in severe cases, maybe even longer. On average, Invisalign only takes about one year to correct your teeth and create the straighter smile you deserve.
4. Invisalign is Safe and Comfortable
Invisalign aligners are smooth and comfortable; they don't have any of the sharp edges or bits of metal that braces have that could scratch or irritate your mouth and gums. Also, unlike metal braces, the plastic aligners won't contribute to demineralization and decay of your teeth.
5. Invisalign Won't Stop You from Enjoying Your Favorite Foods
Another disadvantage of wearing traditional braces is that they can't be removed. This means that you'll need to avoid certain sticky or hard foods during your treatment. Fortunately, since Invisalign aligners can be removed, they won't have any effect on your diet; you can feel free to enjoy all of your favorite foods without worry!
6. Invisalign Lets You Know What to Expect
Not sure whether Invisalign will be worth it? Your dentist will use a computerized system to plan your treatment, letting you know exactly what to expect during the process and how long you can expect it to last. This is in contrast to metal braces, which sometimes lead to a trial-and-error situation.
Are you thinking that Invisalign might be just the gift to help you or your loved ones greet the new year? Get in touch with your cosmetic dentist in Danville today to schedule a consultation and start planning the treatment for the long term.
About Danville Dental Associates
At Danville Dental Associates, we've worked to bring our patients and their families the highest quality dental services since 1976. We have five convenient locations each run by caring dentists and team members offering state-of-the-art treatment. To schedule a consultation and learn more about Invisalign, visit our website or call (434) 822-1332.