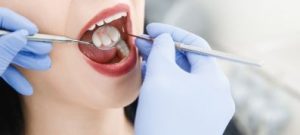 You may think it's a coincidence that February is Gum Disease Awareness Month and American Heart Month, but your gums and heart are actually linked in surprising ways. And since gum disease affects an estimated 65 million Americans, it's likely that you or someone you know has a higher risk of heart problems and doesn't know it. Fortunately, you can lower your risk by learning about the signs of gum disease and how seeing a dentist in Danville can help you stay a lot healthier. Read on to find out more!
How Are Your Gums Linked To Your Heart?
Everything in your body is connected. And researchers think that the bacteria in plaque and tartar (and the inflammation it causes) actually spread from your gums to the rest of your body via your bloodstream. Once it reaches your heart, it can cause inflammation and plaque to form in your arteries, which increases your risk of heart disease by about 20%, according to a recent study.
What Are the Signs of Gum Disease?
If the plaque, tartar and bacteria under your gumline aren't removed with regular cleanings and good oral hygiene at home, it leads to inflammation of the gums (called gingivitis). This is the first stage of gum disease and includes symptoms like bleeding, swelling, and tenderness.
If gingivitis isn't treated in time, it progresses to more advanced gum disease and exhibits symptoms like moderate bleeding, gum recession, persistent bad breath, and loose teeth.
How Does a Dentist Treat Gum Disease?
A dentist regularly monitors your gums at every 6-month checkup. If they see signs of gingivitis, they may recommend better brushing and flossing at home and more frequent cleanings (for example, every 4 months as opposed to every 6).
If they diagnose you with a later stage of gum disease, they'll recommend scaling and root planing (also called a "deep cleaning.") This procedure is designed to thoroughly remove plaque, tartar and bacteria under the gumline and is usually done in 2 to 4 visits. After your gums are numbed, a hygienist will use special tools to clean and smooth the roots of your teeth, which prevents bacteria from accumulating in the future.
Gum disease doesn't have to affect your heart. With regular visits to a dentist and good habits at home, you can maintain a healthier smile and better overall health for life.
About the Author
Dr. Nicole DeShon is a family dentist in Danville with nearly a decade of experience and a graduate of the University of North Carolina at Chapel Hill. To help her patients lead healthy, happy lives, she and her team provide effective gum disease treatment, including scaling and root planing. If you'd like to know more about gum disease or have any questions, she can be reached via her website.