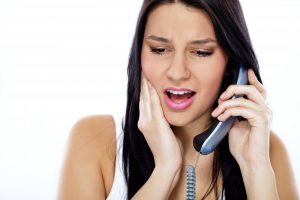 As America fights back against the COVID-19 outbreak, more of life's mishaps can still occur, including dental emergencies. With shelter-in-place orders issued and most businesses temporarily closed, it may seem that the ER is the only option for receiving treatment for an urgent dental issue. As you read on, you'll find out why the better choice is to visit an emergency dentist in Danville.
Most Dentists are Available for Emergency Care
Although most dentists around the country have placed a temporary hold on performing cosmetic, preventive and certain restorative treatments, many are available to provide care in emergency situations. Thus, they should be the first choice if you suddenly find yourself facing some form of dental trauma.
To help squelch any confusion, the American Dental Association (ADA) has provided some specifications for the types of issues that should be treated or responded to during the COVID-19 outbreak:
Biopsy of abnormal tissue
Severe dental pain from pulpal inflammation
Post-operative osteitis (also referred to as dry socket)
Dental trauma with avulsion/luxation (tooth dislodgement)
Tooth fracture resulting in pain or causing soft tissue trauma
Dental treatment required before receiving critical medical procedures
Abscess or localized bacterial infection resulting in pain and swelling
Pericoronitis (gum tissue inflammation around a partially erupted molar)
Final crown/bridge cementation if a temporary restoration is lost, broken or causing gingival (gum) irritation
The Problem with Heading to Hospitals
Visiting your local ER unnecessarily can potentially expose you to COVID-19, or you could infect someone else. To make matters worse, hospital staff are already swamped, as censuses have risen across the country. Thus, heading to the ER for a dental emergency can cause an even greater traffic jam.
Additionally, you can get much better results by visiting an emergency dentist, who is skilled and equipped to treat various forms of emergency situations.
Are There Exceptions to the Rule?
There are two types of dental emergencies that you should visit the ER for – profuse oral bleeding or a suspected broken jaw. The following explains why it's best to head to the hospital for care:
Profuse Oral Bleeding – For oral bleeding, the typical remedy is to gently apply a cotton gauze to the injured area until a clot forms. If, after 10 minutes, the bleeding persists, then you should immediately head to the ER, as continued blood loss can eventually become life-threatening.
Broken Jaw – A broken jaw can affect more than just your occlusion (bite). It could possibly inhibit your breathing. Thus, it's an even more time-sensitive matter than most other dental emergencies.
Outside of having a broken jaw or unstoppable bleeding, if you have a dental emergency during the COVID-19 outbreak, the best place to turn for help is your local emergency dentist's office. You can rest assured that you'll receive the expert and compassionate care you need to fully recover.
About the Author
Dr. Thomas J. White earned his dental degree from the Virginia Commonwealth University School of Dentistry. He has since gone on to provide calm and effective care, even in the tensest situations. Dr. White is available to treat dental emergencies at Danville Dental Associates, and he can be reached for more information through his website.