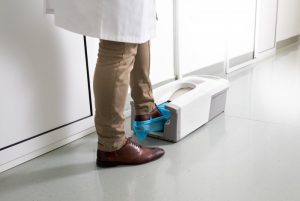 The COVID-19 pandemic has changed so much about how so many of us work. Essential workers like grocery store cashiers are putting their lives on the line every day. Office workers are having to adjust to the unique hardships of working from home. Your dentist in Danville certainly has learned to adjust to the challenges presented by this pandemic. Before COVID-19, all your dentist had to do to prepare for their appointment with you was wash their hands and put on a new mask and pair of gloves. These days, however, that's not going to cut it. Here are some of the precautions your dentist takes to keep their patients germ-free.
Having a Safety Champion
Every day, a different member of your dentist's staff will be randomly selected to serve as that day's designated Safety Champion. This person will be in charge of greeting patients, answering questions, enforcing social distancing, and generally making sure everyone is adhering to the recommended safety guidelines.
Wearing Additional PPE
As mentioned earlier, a mask and gloves aren't enough to prevent infection during a global pandemic. Instead, the members of your dentist's clinical team are going to be wearing extra PPE (which stands for personal protective equipment) such as double ace masks, face shields, surgical gowns, and shoe coverings.
Changing Work Clothes at Work
Instead of changing into and out of their stylish scrubs at home, your dental team is going to be doing so at the office. Why? Recent research has suggested that changing at home can bring in germs from the team members' homes into the office. This is just one additional step that couldn't hurt to implement, and it can help keep you safe.
Performing Daily Health Checks of Staff
Every morning, each staff member will be required to answer a few quick questions about their current health. Their temperature will also be taken with a no-contact thermometer. Any team member who has a high fever or any other coronavirus-like symptoms will be sent home.
Offering Online Consultations
Thanks to modern technology, your dentist can now offer many consultations and follow-up appointments online via your cell phone or computer. You can send pictures or go on a video call with your dentist. You can receive the care you need without having to leave the house or even get properly dressed!
Rest assured that your health and safety is your dentist's number one priority. That's why they have taken the time to implement all of these extra precautions to reduce the risk of germs in their office. For more information about how your dentist in Danville is keeping their office safe, visit their website.
About the Practice
At Danville Dental Associates, we strive to provide the highest quality care to our patients of all ages. We have five convenient locations in Danville and Chatham, VA, each of which has a skilled team with a variety of expertise. Our offices take all the necessary safety measures and more to prepare for your appointment so that you're as safe as you possibly could be. To learn more, you can visit our website.