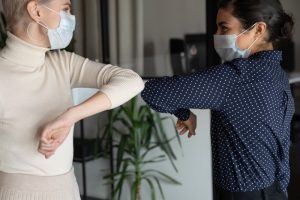 Although stay-at-home orders are being lifted, your dentist is not taking their decision to reopen lightly. In fact, they have spent the last couple of months re-designing their daily operations to raise their infection control procedures to an even higher standard. One of the steps they are taking to provide their patients with peace-of-mind is incorporating social distancing. Here are four ways your dentist in Danville is enforcing the 6-foot distance guideline at your next appointment.
Virtual Waiting Rooms
Pre-COVID-19, waiting rooms were known for their congested feel and sardine-style seating. To limit foot traffic and reduce your contact with other patients, dentists are implementing virtual waiting rooms. By asking patients to call upon their arrival, the office staff can reduce the number of people in the building at any given time. This also allows you to wait in the comfort of your car until the treatment room is ready, bypassing the need for a physical waiting room.
Contactless Greetings
Although you and your dentist will inevitably breach the social distancing guidelines during your visit, you must practice it whenever possible. One crucial way you can maintain the 6-foot distance is during your greeting. Therefore, opt for air high-fives and friendly waves instead of handshakes and hugs during this pandemic.
Sequenced Patient Scheduling
To guarantee there is enough time for proper sanitization and exceptional dental care, your dentist is implementing sequenced patient scheduling. While this does mean there will be fewer appointments available each day, it ensures that proper infection control and social distancing procedures are followed for each patient.
Additional Sanitation Measures
Social distancing is most effective when combined with other infection control procedures. Therefore, your dentist will be implementing additional sanitation measures recommended by the CDC and Occupational Health and Safety Administration to ensure your safety. A few of these measures include:
Giving staff extra personal protective equipment (i.e., face shields, gloves, etc.).
Providing no-touch hand sanitizing stations for you to use before and after your visit.
Asking patients to wear face masks when not in the treatment room.
Using CDC-approved instrument sterilization.
Disinfecting between each appointment.
Conducting a deep cleaning of the office every evening.
Although these measures take time and skill to enforce, your dentist is happy to implement them to ensure your safety. That way you can prioritize your oral health without compromising your safety during COVID-19!
About Danville Dental Associates
For over four decades, Danville Dental Associates has provided high-quality, all-inclusive dental care. With five convenient locations and state-of-the-art treatment, the experts at Danville Dental Associates are ready to help you get the services you need in a safe environment. If you would like additional information on dental safety protocols we are implementing at each location during COVID-19, visit our website.