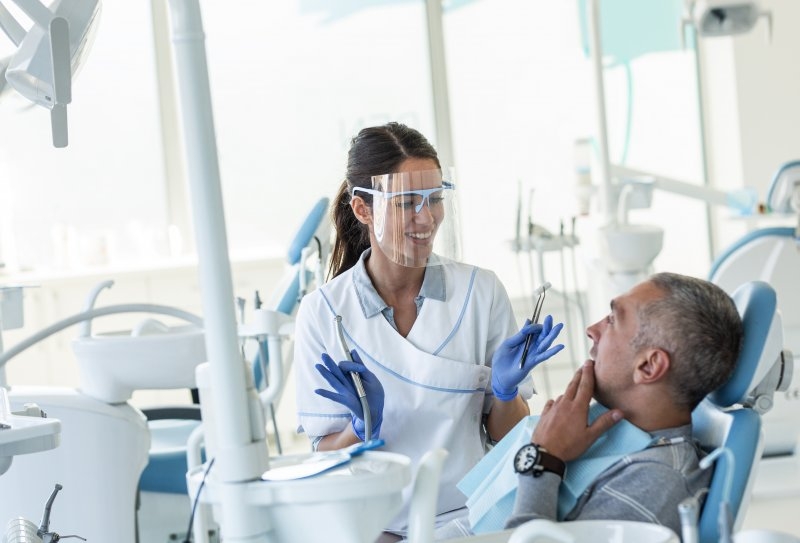 Since the onset of COVID-19, our lives have been completely re-designed in the name of infection control. Fortunately, safety and sanitation measures like face coverings and social distancing have made the transition into our "new normal" possible. Nevertheless, many patients are continuing to postpone their routine dental visits since there currently isn't a cure or vaccine available. However, this can negatively impact your oral and overall health. Therefore, a dentist in Danville is sharing four reasons not to delay your bi-yearly appointment during COVID-19.
#1. Your Dentist Is an Expert in Infection Control
Long before 2020, your dentist dedicated their time and resources to follow standards set forth by the Centers for Disease Control and Prevention and the Occupational Health and Safety Administration. In fact, a significant portion of their schooling and advanced training is dedicated to practicing proper infection control and preventing cross-contamination. Therefore, they are experts at creating a sterile, safe environment for their patients!
#2. Additional Safety Measures Are in Place
Before COVID-19, your dentist would wash their hands, put on their personal protective equipment, and begin your appointment. Although these practices continue to play an important role in preventing cross-contamination, the CDC is currently recommending that dentists put additional safety measures in place in light of the current pandemic. So, you can expect the below changes at your next appointment:
Spaced-out appointments to allow for ample cleaning time.
Online consultations to limit the number of times you leave your home.
Re-arranged waiting areas to make social distancing a practical reality.
Additional personal protective equipment to add supplementary protection (i.e., face shields, disposable coats, etc.).
#3. Routine Visits Catch More Than Cavities
At your bi-yearly appointment, your dentist can catch a number of dental issues, including cavities and gum disease. But did you know your dental team uses the examination portion of your visit to check for non-dental issues as well? Since 90% of health conditions have oral symptoms, your dentist can play a crucial role in early detection and intervention of diabetes, HIV, and osteoporosis (to name a few!). Therefore, it is important to prioritize your dental checkups for your overall health as well.
#4. Preventive Care Can Help Prevent Emergency Visits
Unfortunately, dental emergencies can happen at a moment's notice. However, your routine visits can play an instrumental role in preventing knocked-out, chipped, and fractured teeth. In fact, the Journal of Dental Medicine recently reported that every dollar invested in preventive care can save you between $8 and $50 in the long run. That means a $250 dental examination and professional cleaning can prevent you from spending $12,500 on restorative treatment! So, make sure to think of your oral health and your wallet when considering postponing your routine visit.
Since we are living in an unprecedented time, it is understandable that patients are initially hesitant when scheduling their routine visits. However, it is important to remember that your dental team is dedicating all their resources to creating a safe, sterile environment. That way, you can get the oral care you need without compromising your safety!
About the Practice
For over four decades, Danville Dental Associates has built a reputation on their high-quality dentistry, world-class service, and top-notch team. Today, they have eight exceptional dentists on staff, five convenient locations throughout Danville and Chatham, VA, and offer a comprehensive array of services for patients of all ages. If you would like to speak with their team about additional measures they are taking to keep their patients safe during COVID-19, visit their website!