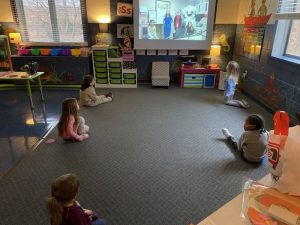 You love your child, and like any good parent, you want to be sure they are given every opportunity to grow up healthy and happy. Did you know that your child's oral health directly affects their overall health? February was Children's Dental Health Month, so there has never been a better time to reprioritize your focus on their smile. Your team of experts at Danville Dental Associates has everything you need to know about giving your child the gift that will keep on giving for the rest of their life – the knowledge of what good oral health looks like.
Tips to Help You Set Your Child's Smile Up for Success
One of the most powerful tools you can give your child when it comes to good oral health for life is education! Adults with beautiful smiles have them for a reason, and now is the time to begin teaching your child how to care for their teeth and gums so that they can be proud of their smile for years to come. Here are a few tips to help you set them on the right track:
Stress the Importance of Brushing and Flossing
For many parents, just getting their children to brush before bed is a battle well-won. Although it may be challenging at times, it's important to encourage your child to brush in a circular motion and on each surface of each tooth once in the morning and once before bed to remove plaque build-up. Flossing is just as important because it removes bacteria from the hard-to-reach areas that the toothbrush can't get to, keeping the gums safe from infection. When your child flosses, they will need to gently move the floss string up and down the sides of each tooth, carefully removing the plaque between their teeth.
Make Sure They Eat Plenty of Fruits and Vegetables
Your child's pediatrician has probably already stressed the importance of including plenty of fruits and veggies in their diet in order to help their growing body stay strong and healthy. Their teeth also need the vitamins and minerals that come from vegetables and fruits to keep their oral health in good condition. Look for options that are high in calcium, potassium, and vitamin C. Some great examples are carrots, apples, and bananas. Veggies that are high in fiber, like celery, can even help to clean plaque from your child's teeth while they eat!
Limit Their Sugar Intake
There will come a time when your child's diet is out of your control, so that's why it's so important to teach them proper eating habits now. When it comes to cavities, sugar is the primary catalyst, so make sure to limit your child's sugar intake. Encourage them to eat fruits or sugar-free options in order to curb their sweet tooth.
Don't Skip Regular Dental Checkups and Cleanings
Your life is busy, and balancing work, your child's school schedule, and all of the activities in between can sometimes cause regular dental visits to be placed on the backburner. However, making sure your child sees their dentist every six months for regular cleanings, checkups, and x-rays is one of the best ways you can prevent oral issues. During the checkup, the dentist checks for signs of oral cancer, gum disease, or any issues that x-rays might reveal. The sooner problems are identified, the easier and more affordable they are to treat.
Like all children, your little one learns by example, and you're the primary role model. Make sure to set their smile up for success by teaching them how to properly care for their teeth at a young at so that they can avoid oral issues later in life.
About the Practice
There is no team quite like the experts at Danville Dental Associates. Their team of doctors is passionate about making sure that every child they see is provided with the tools they need to take great care of their smiles. They believe that good oral health starts with education in the home. They are compassionate and kind, and their years of combined experience and training make them a great choice for your child's next dental checkup. You can schedule the appointment online at one of our convenient locations or call (434) 432-8793.