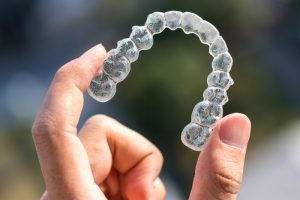 No longer do you have to rely on traditional braces to straighten your teeth. With Invisalign, you can now achieve the smile of your dreams without having to endure an unpleasant treatment process. Still, there are many details about the procedure that you need to be aware of. As you continue reading, a dentist in Danville provides a step-by-step explanation of Invisalign, from start to finish!
The Differences Between Invisalign and Traditional Braces
Traditional braces rely on metal brackets and wires to apply the necessary pressure to straighten teeth. While braces are highly effective, Invisalign offers a more discreet alternative. Its clear-plastic trays gradually and more comfortably move teeth to their correct position. So that you can achieve the results you want, a series of carefully executed steps are taken.
Step #1 – The Consultation
The Invisalign treatment process starts with visiting a dentist for a consultation. At this time, you'll learn more about the procedure, and you'll be able to ask any questions you may have. Additionally, the dentist will assess your bite to determine your eligibility.
Invisalign can typically address the following:
Gaps
Overbites
Underbites
Crossbites
Open bites
Mild-to-moderate overcrowding
Step #2 – The Diagnostic Records
The preparation process continues with the dentist taking a series of X-rays and digital photos of your face and smile. The information gathered will ensure that treatment is tailored to fit your specific needs, and the details will be sent to a certified Invisalign lab that will fabricate the initial set of aligner trays.
Step #3 – Collecting the First Set of Aligners
Usually, your first set of trays will be ready within two weeks. When they arrive, your dentist will invite you back to retrieve them, to assess how well they fit and ensure the trays are compatible with your smile.
Step #4 – Taking Care of Your Aligners
Your Invisalign aligner trays must be worn 20-22 hours a day to be effective. Additionally, you'll need to remove them before eating or drinking dark-colored beverages. With each removal, you'll need to rinse and soak the trays in a special solution called Retainer Brite.
You'll wear each set of trays for two weeks and then exchange them for a new pair, following this cycle until treatment is completed.
Step #5 – The Follow-up Appointments
The frequency of your follow-up visits mainly depends on the dentist. In most cases, you can expect to visit every four to six weeks. This allows the dentist to monitor your progress, determine whether to order additional trays or make adjustments.
Step #6 – The Final Refinements
After your teeth are straightened, you'll likely need some final adjustments. The process involves the dentist conducting some scans of the current condition of your teeth that will be used to craft a set of refinement aligners. Usually, only one or two refinements are needed.
Step #7 – The Retainers
To solidify your results, you'll complete treatment by wearing a set of retainers. They typically look similar to the trays you've already grown accustomed to wearing. Thus, you won't have to worry about drawing any unwanted attention to your smile. The dentist will provide instructions on how to use the retainers properly.
Overall, the process of getting Invisalign and correcting your bite is relatively simple. It just takes a little patience and the willingness to follow the plan that the dentist designs. The reward will be a smile that looks and functions magnificently!
About the Author
Dr. Christopher A. Payne earned his dental degree from Virginia Commonwealth University's Medical College of Virginia School of Dentistry. He is a Master of the Academy of General Dentistry who has completed over 2,000 hours of continuing education, which includes advanced training in Invisalign and Orthodontics. Dr. Payne helps patients achieve a more functional and attractive smile at Danville Dental Associates, and he can be reached for more information or to schedule a visit through his website.