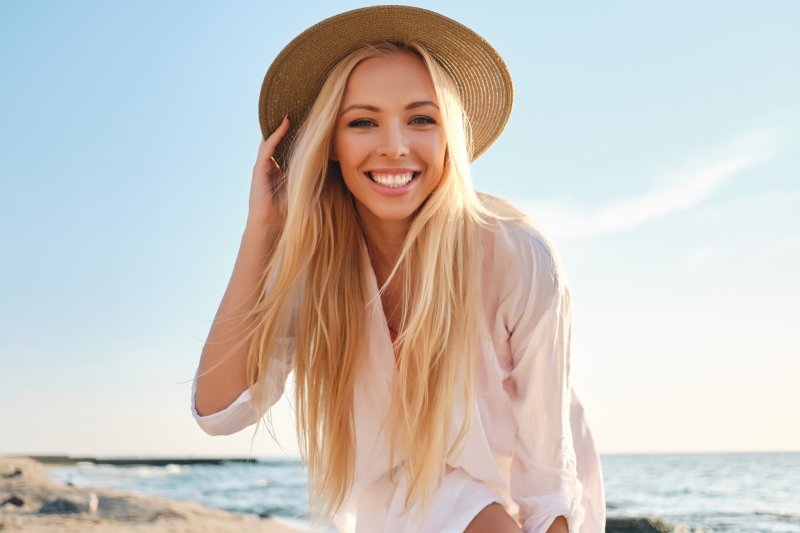 A smile affects more than oral health – it affects your self-esteem too. If you have flaws and imperfections in your teeth, you may be dreading all the summer festivities. Luckily, cosmetic dentistry can transform your grin into one you'll never stop showing off! Read along as your Danville cosmetic dentist shares three treatments that can boost your confidence.
Dental Bonding
Even the tiniest chip or crack on your teeth can have a significant impact on your appearance. Fortunately, dental bonding is the perfect solution for patients with minor dental problems. It's a quick, easy, and effective treatment!
Here's how it works: your dentist applies composite resin (a malleable tooth-colored material) over the flawed tooth and sculpts it to repair chips, cracks, or gaps. Then, the material is hardened with a curing light, and voila – you're done! In as little as one hour, you can enjoy a long-lasting, beautiful new smile.
Porcelain Veneers
Whether it's one tooth or an entire row of teeth, porcelain veneers can transform even the most flawed grin into one that's red-carpet ready. Veneers are thin sheaths of porcelain that are adhered to the front surfaces of teeth, instantly disguising imperfections.
Within just a few appointments, they can correct a wide range of issues, including:
Severe staining or discoloration
Chipped, cracked, or broken teeth
Gaps or spacing issues
Crooked or misshapen teeth
Each veneer is custom-made to match your tooth's enamel, creating natural-looking results that you can enjoy for many summers to come!
Teeth Whitening
Do you have stained, discolored, or dull-looking teeth? Don't worry – it happens to everyone over time. Aside from aging, factors like smoking, medications and dietary habits can contribute to darkened teeth. Luckily, professional teeth whitening treatment can reverse the clock by removing even the most stubborn stains!
There are two ways you can brighten your pearly whites:
In-Office Whitening Procedure
This process involves applying a special bleaching gel to your teeth to remove stains. A special light is used to intensify the bleaching agent and lift any discoloration. The in-office procedure is a single session that lasts about an hour. It's the ideal option for patients who want instant dramatic results!
Take-Home Whitening Kit
Would you rather whiten your teeth from the comfort of your home? An at-home whitening kit may be a better option for you. It's a more gradual process that can be done whenever you find it convenient. Your dentist will supply you with a customized tray and whitening solution. Usually, you will only be required to dedicate 15 to 30 minutes a day to teeth whitening. After some time, you can achieve the same bright results as you would from an in-office procedure.
Are you ready to enhance your summer smile? Consult with your Danville cosmetic dentist to determine the best treatment for your needs. Soon, you'll be beaming with confidence at every event!
About the Practice
Our team at Danville Dental Associates strives to provide only the highest quality dental services for every patient that walks through our door. From emergency care to dental implants to cosmetic dentistry, we offer services that can meet whatever your smile needs. If you're ready to enhance your smile and boost your confidence, visit our website to schedule a consultation with one of our dentists.