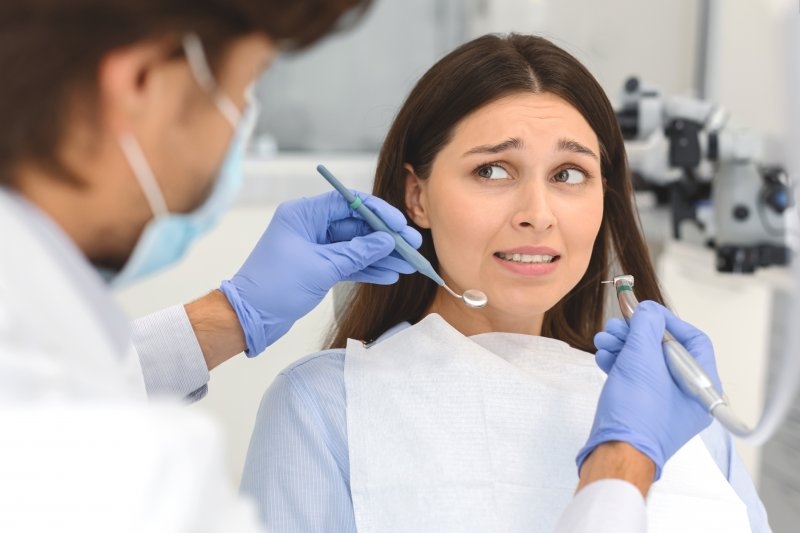 Do you sometimes actively avoid going to the dentist? You're not alone. Many people are hesitant to schedule a dental appointment, but their motives aren't always the same. Whatever the issue is, however, you can certainly learn to overcome them with some help! Listen to your dentist in Danville as they explain five reasons people don't seek dental care and why there's nothing to worry about.
Reason #1: Dentophobia
This is the fear of visiting the dentist for dental treatments. Whether it's due to past traumatic experiences or the sight of sharp objects during procedures, being afraid can make people pause when considering an appointment. The best thing to do is to find a dentist you feel most comfortable with. By building trust with your doctor, you can feel more confident about them working on your teeth.
Reason #2: Shame
For some people, it's been a long time since they're last visit, or they may not clean their teeth as regularly as recommended. This can make them hesitant to see a dentist, as they won't want to risk being judged about their oral health. However, if you have a dentist you trust, then you can rest assured they'll be happy to see you. Their top priority is simply to help you achieve and maintain a healthy smile!
Reason #3: Problems with Insurance
This could be due to a lack of insurance or one that is too high to afford dental procedures. Since money is essential for receiving treatments, not having a secured financial situation can put a pause to seeking care. While most serious conditions can be costly, it's always best to avoid them with preventive care, which is more affordable. Your dentist may also help create a payment plan to make your visits more manageable.
Reason #4: No Symptoms
Even if you aren't experiencing any issues, you should still schedule a checkup and cleaning. Some conditions can worsen over time, so putting a stop to them now can save you from trouble. For this reason, it's recommended that you visit your dentist at least every six months to cover all the bases of your oral health.
Reason #5: They Forgot to Visit
Sometimes our schedules can keep us busy, making it easy to forget certain things. If this is something you struggle with, then you can try setting up reminders about your next dental visit—either with your phone, writing it on your calendar, or having the dental office give you a call.
Whatever the reason is to hesitate on scheduling an appointment, you can definitely overcome it! Speak with your dentist about your concerns, and they'll be glad to help you.
About the Practice
Danville Dental Associates provides state-of-the-art dental care with a focus on making you as comfortable as possible. We use advanced technology and the latest techniques to help you attain and preserve a healthy smile. If you'd like to schedule an appointment or get to know our dentists, feel free to visit our website or call 434-793-4116.