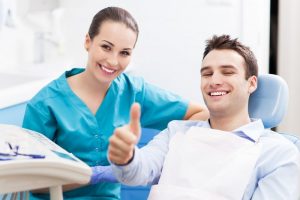 Now that summer is coming to a close and fall is just around the corner, it's officially back to school season! If you or your child will be gearing up for the next semester in the coming weeks, there are probably a million different things on your mind. Amidst the semi-chaos, don't let your oral health slide! After all, it's likely that your next dental checkup in Danville is right around the corner. You don't want to "fail" your dental exam and find that you have a cavity or the early stages of gum disease! Fortunately, you can use the following practical tips to make sure you're prepared to ace your checkup.
1.) Eat Healthy
Everyone knows that eating too many sugary snacks will cause cavities. But did you know that you need to be just as weary around carb-heavy foods and many beverages? Carbs convert to sugars in the mouth, fueling cavity-causing bacteria just as quickly as candy. Meanwhile, soda, coffee, wine, sports drinks, and energy drinks all contain sugars and acids that can wreak havoc on your teeth as well. To prep for your checkup, make healthy switches to your daily diet.
2.) Stay Hydrated
Staying hydrated is essential for many different parts of your body, including your mouth. Dehydration leads to dry mouth, which weakens enamel and increases risk of tooth decay. Drinking water regularly will prevent this, plus it will work to wash away lingering food particles and plaque in your mouth.
3.) Stick to a Routine
Is your dental routine doing enough for your oral health? Make sure you're brushing with a soft-bristled toothbrush and fluoridated toothpaste for at least two minutes twice a day. Additionally, you should also floss at least once a day to prevent cavities between your teeth, and rinsing with mouthwash regularly can help keep gum disease at bay.
4.) Make an Info Packet
Now, it's time to prepare for your visit. Your medical history is updated during your checkups, so bring a list of any new medical diagnosis you may have received, as well as what medications you're currently taking. If your dental insurance has changed since your last visit, you should bring that information with you as well.
5.) Schedule Your Next Visit
For extra credit, it's a great idea to schedule your next dental checkup before you leave your dentist's office. Even if you're not sure what your schedule will look like six months from now, it's a better idea to get an appointment set up rather than relying on remembering to do it later.
Routine dental exams are key for keeping your smile looking and feeling its best for a lifetime. If it's been more than six months since your last visit, it's time to call your dentist!
About the Practice
Danville Dental Associates has been providing gentle and personalized dental care to smiles of all ages since 1976. With a variety of convenient locations and a team of highly experienced dental professionals, we strive to make it as easy as possible for you and your family to get the high-quality oral healthcare you deserve. So whether it's time for your next dental checkup, you have a painful or broken tooth, or you're interested in cosmetic dentistry, we're here to help! We can be reached online or at (434) 799-8825.