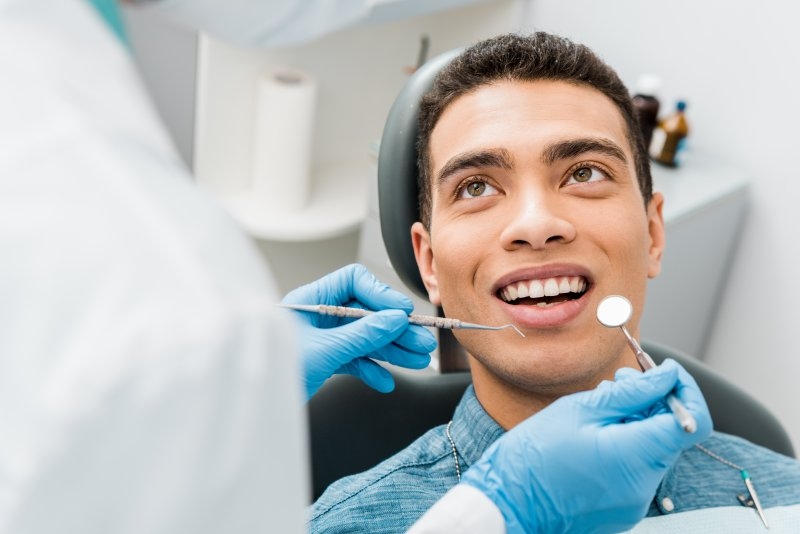 Once the new year rolls in, most people are busy planning out their schedule for the upcoming months. Not only will your calendar likely fill up, but so will your dentist's. Other than keeping up with any New Year's resolutions, you'll want to stay on track with good oral health. The last thing you'd want is to experience a dental problem that could have been prevented ahead of time. Read on to learn three important reasons why you should schedule a dental checkup at the start of the year.
Reason #1: Maximize Your Dental Insurance
If you have a dental insurance plan, then you probably know that the deductible was reset at the beginning of the calendar year. This means that you'll need to pay a certain amount before your benefits kick in to help with the cost of your treatments. By scheduling a dental visit as early as possible, you'll be able to meet your annual deductible much sooner and have peace of mind knowing that any other procedures will be covered. Furthermore, the majority of dental insurance policies offer coverage for two dental checkups and cleanings at 90-100%, meaning you can save more money in the long run.
Reason #2: Stop & Address Problems Early On
Did you know that most oral health issues like gum disease and cavities can typically be prevented? While they can start small and undetectable, they can easily become bigger problems that cause permanent damage if left unchecked. With routine dental checkups every six months or sooner, your dentist can help protect your oral health from decay and further harm. The earlier these concerns are caught, the simpler and less expensive they are to address.
Reason #3: Maintain a Safe & Healthy Smile
If your teeth and gums are looking and feeling fine, is it really necessary to schedule regular dental checkups and cleanings? Even if you aren't currently experiencing any oral health issues, you'll want to make sure your smile remains in pristine condition for the long term. That's why it's essential to visit your dentist as often as possible. Not only will they thoroughly polish your teeth, but they'll also provide personalized preventive care to preserve your gums, teeth, and other oral tissues to keep more serious complications from starting altogether.
Now that you know the importance of scheduling dental checkups early, you can start your year right with excellent oral health. Speak with your dentist if you plan to visit, and they'll be happy to help you maintain a safe and beautiful smile!
About the Practice
At Danville Dental Associates, we offer a wide range of high-quality services to help patients of all ages maintain great oral health. Our team has multiple experienced dentists with various skills that will do everything possible to help create a pleasant and comfortable experience. If you wish to schedule a dental checkup with us, visit our website or call 434-205-0830.