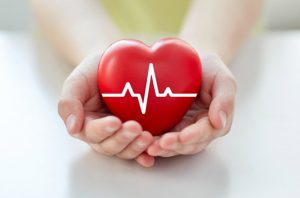 February is American Heart Month, meaning that it's the perfect opportunity to assess your cardiovascular health and seek out ways of improving your well-being! One way to do this is by turning your attention toward your oral health; believe it or not, the state of your smile can actually impact your cardiovascular wellness! Here's more from your dentist about this connection along with some ways to ensure that both your heart and your smile are happy and healthy.
The Curious Connection Between Oral & Cardiovascular Health
Your mouth is connected to almost every single part of your body—meaning that once a problem arises, if it's left unaddressed, it has the potential to spread throughout the rest of you. But the connection between your smile and heart has mainly to do with the impact of untreated gum disease. Studies clearly indicate a link between periodontal disease and an increased risk of health problems including cardiovascular disease.
This is due to how gum disease impacts your body if allowed to spread. The infection causes inflammation in the gums; these inflammatory bacteria can sometimes hitch a ride with your bloodstream and spread throughout your body, eventually infiltrating your heart. In fact, it's estimated that patients with serious gum disease might even be at a two to three times greater risk of a heart attack!
Tips for Protecting Your Smile and By Proxy, Your Heart
By actively mitigating gum disease and taking other measures that promote a healthy lifestyle, you can reduce the likelihood of experiencing a heart attack or some other type of cardiovascular issue. Here are some tips to consider:
Brush your teeth twice a day for two minutes each time using a soft-bristled toothbrush. You should also floss daily, as the habit is essential in the ongoing fight against gum disease.
If you smoke cigarettes or use tobacco products, kick the habit—it's very likely to lead to all kinds of nasty health issues that affect your smile and your heart.
Be mindful of your diet and opt for healthy choices like fruits and vegetables, lean proteins, low-fat dairy products, and other smart choices. Avoid excess amounts of sugars and starches when possible.
Routinely visit your dentist for preventive care; this is one of the best ways to prevent, treat, and monitor gum disease.
Both the American Dental Association and the American Heart Association have acknowledged the link between gum disease and heart disease, meaning that it's something you should be aware of! That said, knowing the intricacies of this connection and how you can protect yourself will go a very long way.
About the Practice
The team at Danville Dental Associates is thrilled to offer an exceptional level of dental care to patients and families in the Danville, VA area. They offer a wide range of services including several preventive, restorative, and cosmetic treatment options. If you have any questions about the article or you'd like to schedule a visit for you or a loved one, don't hesitate to contact the practice today to find a location near you.