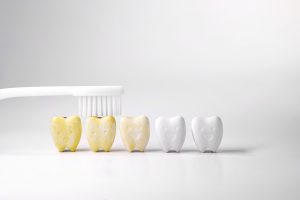 Have you ever felt self-conscious that your teeth aren't as white as they once were? Or perhaps you've recently noticed certain areas on your teeth are darker. This kind of discoloration can lead to a sense of self-consciousness over our smile. After all, no one wants to feel like their teeth look dingy or uncared for. Fortunately, cosmetic dentistry has methods that can visibly lighten your teeth up to 10 shades! Keep reading to learn more about what causes stains so you can avoid them in the future, as well as how your dentist can help!
Are There Types of Tooth Stains?
Your teeth might have become discolored for one of several reasons. Generally, there are 3 types of tooth stains:
Extrinsic stains. These occur when particles from certain foods or drinks build up over your tooth enamel. Teeth whitening can usually reverse the effects. Many dentists offer in-office whitening with professional-grade materials. Some will even provide you with a take-home kit with custom-fitted application trays.
Intrinsic stains. This refers to darker areas inside the tooth, like a cavity, that we can see from the outside. Because they're internal, they can't be addressed with surface treatments like teeth whitening. Depending on the reason for it, your dentist may need to repair your teeth before looking at aesthetic solutions. Often in these cases, dental bonding or veneers can be placed to hide the unwanted hue.
Age-related stains. Age naturally impacts our bodies in many ways, including our teeth. Generally, over time the enamel wears away and so our teeth begin to yellow. This is a common, natural occurrence. Your dentist can provide specific options to address this based on the overall condition of your teeth.
What Causes Tooth Stains?
Any number of factors can contribute to discoloration, including:
Food and drinks like coffee, tea, wine, and some raw fruits and vegetables.
Tobacco use.
Dental hygiene habits.
Trauma or disease in tooth enamel.
Certain medications including high blood pressure prescriptions, antihistamines, and chemotherapy.
Now that you know what causes your teeth to fade, you can make whatever adjustments you feel are necessary to avoid them in the future. Furthermore, your dentist can help you identify what is causing imperfections in order to be addressed. If you learn, for example, that your teeth are splotchy because of a prescription medication, then you can talk to your doctor about possible alternatives.
If you have noticed your teeth are looking more yellow or gray than white, it could be time to call your dentist. They can help determine the cause and an appropriate treatment plan. Before you know it, you'll be showing off a shiny, bright smile once again!
About the Practice
Danville Dental Associates opened the doors of their first location in 1976 and has been treating generations of patients since then. We provide all the services you need for comprehensive oral healthcare whether you need preventative checkups, family dentistry, restorative dentistry, cosmetic dentistry, and more! Not only that, but with five locations, you can find an office close to you so you don't have to drive out of your way. Brightening your smile has never been more convenient! If you'd like to make an appointment, you are welcome to request one on the website or call (434) 822-0500.