Meet Your Danville Dentist Dr. Irby
Joshua Irby, DDS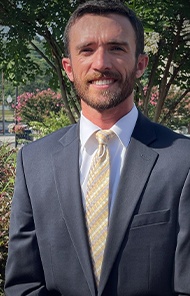 Dr. Joshua Irby is originally from Clover Virginia. He graduated from Halifax County High School where he played golf and baseball. Dr. Irby completed his undergraduate degree at the University of Lynchburg where he majored in Biomedical Sciences. After graduation, Dr. Irby went on to complete his Doctor of Dental Surgery Degree at Virginia Commonwealth University School of Dentistry.
Dr. Irby's love of dentistry ignited at a young age when he was able to assist during his sister's dental appointment. Since then, his admiration for dentistry has grown significantly and continues to find new ways to give the best oral healthcare to his patients. He sees dentistry as a way to give back to the community and is one of the many reasons that he is so passionate about his career. He is a current member of the American Dental Association and Virginia Dental Association. Dr. Irby is very passionate about giving his patients the best care and helping them by creating specific goals to improve their oral health knowledge and overall well-being.
Dr. Irby enjoys many outdoor activities which include mountain biking, fishing, and golfing. He is also very eager to learn more about the Collinsville and Danville community!