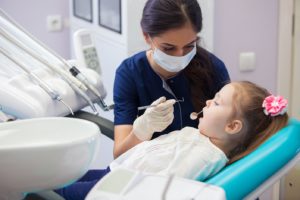 When raising a family, life can get pretty chaotic and complicated. As you try to balance your daily obligations, you do not need your family's dental care to further add chaos into your day. You need a dentist in Danville who can cater each of your loved ones through all stages in life. However, there are many excellent options in the area, making it difficult to determine which location is best for you. To help find the perfect dental team to be by your family's side over the years, there are a few things to consider prior to making your selection.

Complete Services
Each of your loved ones has different oral health needs, which are constantly changing. If you do not choose the right family dentist in Danville, you can find yourself having to go to multiple locations to have everyone's needs met. To prevent the hassle, look for a dental office that offers complete services.
In addition to preventive care, look for one who offers restorative treatments using advanced technology for superior results and comfort. Look for certain areas of specialty, like cosmetic dentistry, children's dentistry, orthodontics, and emergency services to ensure all your needs are met from one location.
Choose Convenience
Your life is busy enough. To accommodate your hectic schedule, you need a dentist who makes appointments convenient. In addition to the perfect office hours, look for one who has multiple locations to make scheduling appointments easy.
Look for Reviews
You can learn a lot about a dental team by reading online reviews and testimonials. Take the time to read reviews from past and current patients to ensure that they are the right fit for your family.
Affordable Care
Raising a family can be expensive. You do not need the cost of dental treatments keeping them from receiving the care they need. Choose a dentist who is in-network with your insurance company to keep services within your budget. If you do not have dental insurance, look for one who offers a discounted dental plan to allow your family to get the care they need for affordable rates.
Choose a Family-Friendly Team
Your loved one's peace of mind and comfort are vital when it comes time to visiting the dentist. Choose a location that caters to families, even young patients to promote a stress-free visit. With caring and compassionate services, your loved ones will feel at ease while getting the care they need.
Benefit from Complete Care Today
If you need a new dentist, do not choose just anyone for your family. Take the time to research your options to ensure the one you choose will be by your family's side both today and in the future.
About Denville Dental Associates
Since 1976, Danville Dental Associates has provided complete dental care to families in the area. With multiple locations and an array of specialty services, everyone's needs are met from one location to receive high-quality, affordable care. If your family needs a new dental team, contact our office today to schedule a consultation.