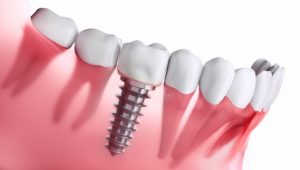 You've had enough of living with missing teeth; you want to go back to eating the foods you love or having the confidence to smile at people you meet for the first time or speaking without embarrassment. When trying to find a solution online, it seems like everywhere you look, dentists are recommending dental implants. Natural-looking, comfortable replacement teeth that work as well as real teeth? That sounds great! But what are they, exactly? Here are the key words to know when your dentist recommends dental implants in Danville.
Endosteal Implant
This is the most common type of dental implant; it's usually a titanium (sometimes ceramic or zirconia) post anchored in your jawbone by screws or other means. These posts serve as the "roots" for replacement teeth; they're very durable and can last for years, and in some cases, they can last for a lifetime. Because they're integrated into the jawbone, endosteal implants can prevent bone loss in your jaw (which often happens with missing teeth) and also provide chewing power almost on par with that of natural teeth.
Crown
The crown is the replacement tooth that is attached to an implant. It helps create a natural-looking smile. Since it is fixed in place, it is not prone to slipping out of place, unlike traditional dentures that only rest on top of the gum line.
Osseointegration
"Osseointegration" is a term that refers to the process where an implant becomes fused into your jawline as the bone grows around it. This provides better stability for the replacement tooth.
Subperiosteal Implant
This is a different type of implant that's usually used when the patient has lost a lot of bone height that can't be repaired. A metal frame is attached to the jawbone to serve as support for dentures. This method is not usually as effective as endosteal implants, since osseointegration doesn't take place and damage to the jawbone is not prevented. It's usually not recommended unless endosteal implants are not an option.
Bridges and Dentures
These are other alternatives for missing teeth that might be suggested if dental implants aren't right for your specific needs. Bridges are held in place by altering adjacent teeth, but this can lead to decay and other problems over the long term. Dentures are a well-known option for missing teeth, but they are prone to slipping out of place and don't offer as much chewing power. In some cases, bridges and dentures can be outfitted with dental implants to replace multiple teeth at once; this is often a healthier and longer-lasting option that you'll want to discuss with your dentist.
When it comes to replacing missing teeth, it's important to understand exactly what your dentist is recommending and why. Make sure that you ask questions and understand the answers before undergoing a major dental procedure.
About the Practice
At Danville Dental Associates, there are eleven dentists across six different locations who cover a wide variety of restorative and cosmetic dental practices. They treat patients of all ages and make a point of employing state-of-the-art technology to provide patients with effective and comfortable care. To learn more about the practice, visit their website or call (434) 822-1332.