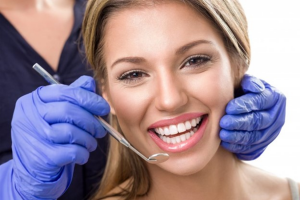 Though its name might not be as frightening as brain cancer or lung cancer, oral cancer is among the deadliest iterations of the illness. A staggering 54,000 new cases are diagnosed annually—with around 43% of these cases having a grim prognosis, and most of the rest suffering from severe long-term complications. That said, oral cancer is also one of the most preventable types of cancer—and it all starts with knowing what to look for and how to protect yourself! Here's what your dentist wants you to know.
Risk Factors Associated with Oral Cancer
Oral cancer is typically categorized into two groups: cancers of the oral cavity, which affect the lips, teeth, gums, cheeks, front of the tongue, and roof/floor of the mouth, and cancers of the oropharynx, which include cancers that target the throat, tonsils, and base of the tongue.
Historically, those at especially high risk of developing oral cancer have been heavy smokers or drinkers over the age of 50. However, other common risk factors include things like sun or radiation exposure, a weakened immune system, other types of head or neck cancer, and even HPV (Human Papillomavirus), a sexually transmitted disease.
Reducing Your Risk of Oral Cancer
The bottom line is that there's no surefire way to prevent oral cancer entirely; however, there is quite a lot you can do to drastically lower your risk! It all starts with visiting your dentist regularly for preventive care. These visits give your provider the chance to conduct an oral cancer screening, which is a thorough examination of your oral cavity for precancerous conditions. Oral cancer isn't always obvious, so letting a trained set of eyes examine your smile is the best way to ensure that you are cancer-free!
It's also important to strive to lead a healthier lifestyle—so if you're a heavy smoker or drinker, consider kicking the habit altogether to protect yourself. Maintaining excellent oral hygiene is also in your best interest, as this won't just protect you from oral cancer, but also several other chronic oral health issues that'll compromise the health and beauty of your smile. Lastly, you should also consider the little things: lip balm with SPF sunscreen, a hat to cover your face, and opting for healthier foods and beverages can all contribute to a cancer-free smile.
Oral Cancer Warning Signs & Symptoms
Even though your dentist is trained to detect signs of oral cancer, it's useful to know what to look for yourself—that way, as soon as you realize something's not right, you can jump into action and schedule an appointment. Don't hesitate to call your dentist if any of the following issues last for longer than two weeks:
Swelling in the mouth, throat, cheeks, or neck
Hard lumps near your tongue, on your cheeks, or on your gum tissue
Abnormalities that bleed easily when touched
Red, pink, black, or white sores on the soft tissues of the mouth
Difficulty speaking, biting, chewing, or swallowing
A change in how your teeth fit together when you close your mouth
An earache on only one side
The feeling that something's stuck in your throat
A persistent cough or chronic bad breath
About the Practice
The team at Danville Dental Associates is thrilled to provide an elite level of care for patients and families in Danville, VA and the surrounding communities. They offer a comprehensive range of services including preventive treatments like oral cancer screenings, so if you have any questions about the blog or you're due for your next visit, don't hesitate to contact the practice today for additional information or to find a location near you.